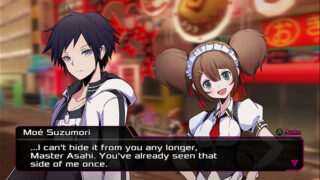 XSEED Games has released a new trailer introducing the maids of Akiba's Beat.
Here's an overview of the maids, via XSEED Games:
When every day is Sunday and the streets of Akihabara lead to "Delusionscapes" filled with monsters, maids can be your greatest guides. Once you've convinced them to join you, they'll alert you to whatever's nearby – treasure, enemies, Delusionscapes, the works! If you're lucky, they might even help you out a little in battle.

Maid Characters' English Voice Cast

Moé Suzumori – played by Alexis Tipton
Yoshino Saionji – played by Lauren Landa
Kanata Saotome – played by Karen Strassman
…and more?
Akiba's Beat is due out for PlayStation 4 and PS Vita on May 16 in North America and May 19 in Europe.
Watch the trailer below.