Fairune developer announces Kamiko for Switch
Due out in April in Japan.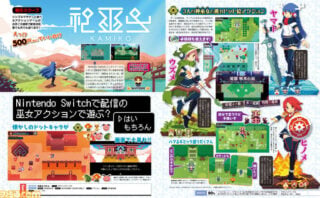 The latest issue of Weekly Famitsu reveals Kamiko, a new action game with pixel graphics for Switch from Japanese indie game developer Skipmore, whose previous titles include the Fairune series and Drancia. It will launch via the Nintendo eShop in April in Japan for 500 yen.
Players will select from one of three "Divine Maidens" (Kamiko), each with different abilities, and aim to take on the boss at the game's depths.
The three characters include:
Yamato – A girl born to a lineage of water maidens. She uses a sword with long reach called "Kuasanagi no Tsurugi."
Uzume – A girl born in the forest to a lineage of earth maidens. She uses a bow that can strike from long range called "Yasakani no Magatama."
Hinome – The youngest girl, born to a lineage of fire maidens. She fights throwing the shield "Yata no Kagami" like a boomerang.
Development is currently 90 percent complete.
Thanks, Hachima Kikou and Famitsu.