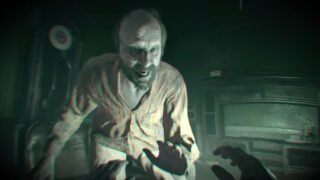 Resident Evil 7 biohazard is now available for PlayStation 4, Xbox One, and PC worldwide. And with it comes the "Tape 4: Biohazard" launch trailer.
Capcom will continue to support the game post-launch with optional downloadable content. The "Banned Footage Vol. 1" and "Banned Footage Vol. 2" add-ons will each deliver two further scenarios and an extra bonus mode. Following these, an additional story episode titled "Not a Hero" will be released for free to all players this spring and introduce a storyline separate from the main drama. The "Banned Footage" add-ons, as well as an additional downloadable story episode, will be available via the Season Pass and deluxe editions of the game, or as individual purchases.
Here are details on the "Banned Footage" add-ons, via the PlayStation Blog (with Xbox One and PC release dates via Weekly Famitsu – thanks, Hachima Kikou):
Banned Footage Vol. 1 ($9.99)
January 31 for PS4, February 21 for Xbox One and PC

Bedroom: Figure out how to escape from a locked room — but don't let Marguerite Baker know you've been out of bed.
Nightmare: Fend off waves of enemies and survive until morning while crafting useful items and traps to stay alive.
Extra Mode: Ethan Must Die: A tough-as-nails mode separate from the tapes and story of the main game. (Does not support PS VR).

Banned Footage Vol. 2 ($14.99)
February 14 for PS4, February 21 for Xbox One and PC

21: Gamble life and limb in a deadly game run by Lucas Baker.
Daughters: See what the Baker family was like before the tragic events of Resident Evil 7 biohazard.
Extra Mode: Jack's 55th Birthday: Race against the clock and feed Jack tons of food in this comical extra game mode separate from the tapes and story of the main game. (Does not support PS VR)
Here's an overview of the game, via Capcom:
Resident Evil 7 biohazard introduces players to Ethan Winters, who has been led to Dulvey, Louisiana in search of his missing wife. There he comes upon a sinister and supposedly abandoned plantation. Upon entering the property it becomes clear that there are secrets to unveil and all is not as it seems. Ethan soon encounters the mysterious Baker family, who have been missing from the area for some time. Will Ethan ever be reunited with his wife? Players will unfold all the secrets behind the mysterious plot as they embark on this truly terrifying and unpredictable survival horror experience.

Resident Evil 7 biohazard features the signature explorative and atmospheric gameplay from the critically acclaimed series that fans across the world have loved for years. The innovative and immersive horror gameplay delivers a disturbingly realistic experience that challenges players to face untold fears, up close and personal, thanks to the dramatic shift to first person view. Powered by Capcom's original RE Engine and working in tandem with industry leading audio and visual technologies, Resident Evil 7 biohazard promises to define the next era in horror entertainment.
Watch the launch trailer below. View a new set of screenshots and character artwork at the gallery.