New BioWare IP due out in Q1 2018, Need for Speed by March 2018
New IP hopes to attract a "large global audience."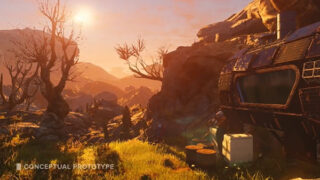 BioWare's new IP will launch in Q1 2018 and a new Need for Speed will launch by March 2018, publisher Electronic Arts announced today.
According to Electronic Arts, the new BioWare IP offers a "clean-sheet design with new concepts, new gameplay mechanics, and new stories set in a unique universe," and "has the potential to fundamentally disrupt the way people think about an action title, bringing friends together to play in exhilarating new ways." It hopes to attract a "large global audience."
Here is a bit more information from the BioWare Blog:
Hi everyone,

As we're working hard to finish Mass Effect: Andromeda, I wanted to take a minute to talk about our new IP. As our CEO Andrew Wilson mentioned, we're creating a unique IP that will bring players together in exciting new ways.

There's much more to say in the coming months, but for now, I wanted to offer this additional background.

In 2012, we began crafting a new universe full of new characters, stories, and gameplay. Our ambition is simple: Draw upon 20+ years of development knowledge and lessons to create something fun and new for you to enjoy with your friends.

There's nothing quite as exciting as building a new IP from scratch, and it will be even more thrilling for us to share more with you in the future.

Thanks,

Aaryn
We first saw BioWare's new IP in a behind the scenes video at E3 2014.
Electronic Arts shared the following regarding the new Need for Speed title: "We've given this game an extended development cycle to focus on innovation, and the Need for Speed team is pushing the boundaries of action driving with what we believe is the most exciting and best-looking Need for Speed game we've ever produced."