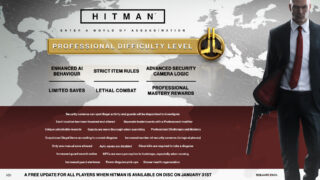 Hitman will add a tougher, "Professional" difficulty as part of its January update alongside the disc launch of Hitman: The Complete First Season, Square Enix announced.
The Professional difficulty levels offers the following:
Enhanced AI behavior – Guards are more thorough when searching. Increased guard search radius. NPCs are more perceptive to footsteps, especially when running. Increased guard alertness.
Strict item rules – Suspicious / illegal items according to current disguise.
Advanced security camera logic – Security cameras can spot illegal activity and guards will be dispatched to investigate. Increased number of security cameras (in logical places).
Limited saves – Only one manual save allowed. Auto-saves are disabled.
Lethal combat – Clean kills are required to take a disguised. Slower health regeneration.
Professional mastery rewards – Professional Challenges and Mastery. Unique unlockable rewards.
Each location has been tweaked and altered.
Separate leaderboards with a Professional modifier.
Fewer disguise pickups.
Hitman: The Complete First Season will launch for PlayStation 4, Xbox One, and PC on January 31. All of the episodes of season one are available now digitally.