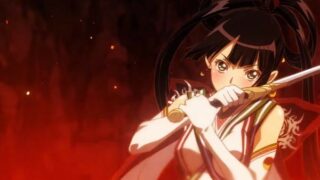 Following a delay to spring 2017, the latest issue of Weekly Famitsu confirms that God Wars: Future Past will launch for PlayStation 4 and PS Vita in Japan in April for 6,800 yen.
Pre-orders will include two additional scenarios:
Additional Scenario #1: Hyuuga's Future – A scenario that takes place after the main game. As they return home to Hyuuga, Uratsuma and Kame are attacked by Momotarou's party off the coast of Mitoyo.
Additional Scenario #2: A New Enemy – Kintarou's party, who is traveling with Kaguya, is informed that someone is attacking the jade of Koshi. Awaiting them in Koshi is a huge beast known as the "White Tiger."
A second demo, previously planned for late January, will now be released in Japan in early February. It features a general merchant and shrine, and lets you enjoy stages such as mountains and a fortress from the start of the game with improvements to the overall system and operability from the first demo. Save data can be carried over to the retail version, and you'll obtain a bonus depending on your play status.
In North America and Europe, God Wars: Future Past is due out via publisher NIS America in early 2017, though with the new Japanese release date, that is likely to change.
Thanks, Hachima Kikou.