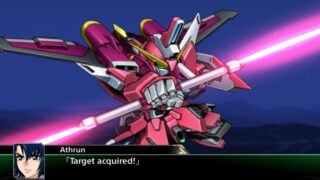 The English version of Super Robot Wars V will launch both physically and digitally for PlayStation 4 and PS Vita in Southeast Asia on February 23, Bandai Namco announced.
February 23 is the same date the game launches in Japan.
Here's a full overview of the game, via Bandai Namco Asia:
Play as original characters, and use 25th anniversary special original robots in combat!

Players can choose from several main characters to play as, such as Soji Murakumo (male) and Chitose Kisaragi (female). Or, they can use the default settings and play as one of the game's sub-characters. Whichever character a player uses, they will begin the game with the VangRay, a prototype anti-alien mobile weapon developed by the 3rd Special Tactical Lab. This unit was built to provide the best in mobility, armaments, and firepower, despite being constructed in haste using parts and materials from existing units.

As special 25th anniversary bonus, the Grungust and Huckebein robots from 4th Super Robot wars original series will also feature in combat!

Even new players can enjoy Super Robot Wars V

Beginners Mode allows the player to challenge himself with different tasks and scenarios at a predetermined difficulty level, earning bonus Money and Tac Pts upon clearing the map. Players may switch game modes at the Intermission. Switching modes will not affect the storyline, or the robots and pilots that will make an appearance.

Starring the Great Mazinger and Mazin Emperor G!

A new Mazinger, the Mazin Emperor G, will make its first-ever appearance in the series. The unit is based off the Great Mazinger, and boasts superior capabilities. An Emperor Aureole is mounted on its back, and other weapons include the Great Smasher Punch and Emperor Blade. Its pilot is Tetsuya Tsurugi.

The game will come with the same 3 bonuses as the Japanese version!

Bonus 1: The "Special Starter Pack" special scenario – In this scenario, players can earn Power Parts and Money that will give them a boost in the early stages of the game!

Get to receive 100,000 in-game currency, 1,000 Tac points, Power Parts.
V Circuit (Movement +1, weapon DMG +200, Range +1 for non-map weapons and weapons with Range of more than 1).
Quantum Computer Terminal (increases all attributes by 10% (Accuracy, Evasion, Critical, incidence rate for special Evasion and shield defense))

Bonus 2: Super Robot Wars V Original Theme – A special Super Robot Wars V original theme for PS4 and PS Vita!
Bonus 3: Grungust and Huckebein original robots unlocked for combat from the first stage of the game, specially for the 25th anniversary. By entering the product code before the second episode, players can unlock he following Power Parts and bonuses for the Grungust and Huckebein and original characters Velt (CV: Ryosuke Kanemoto) and Lottie (CV: Haruka Terui).

Power Parts
V Aggressor (weapon DMG +100, Accuracy correction +20, Critical correction +20)
V Defensor (Max HP + 500, Max EN +50, Armor +100, Mobility +15)
The bonus scenario "Trial By Fire" will be playable after clearing the second episode! Clearing the bonus scenario will give the following bonuses!
50,000 Money
500 Tac Pts
Power Parts
Barrier Field (equips a barrier that reduces all attack damage by 1000. Using the barrier consumes 5 EN)
View a set of English screenshots at the gallery.