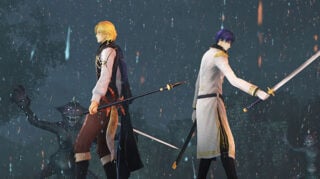 Koei Tecmo has shared new information and screenshots for Musou Stars, detailing Hajime Arima and the newly confirmed Darius, both who join the cross-over action game from Harukanaru Toki no Naka de, as well as the game's free scenario story mode with multiple endings.
Get the information below.
■ Characters

Darius (voiced by Kenichi Suzumura)

A young man of the Oni Clan who lives deep in the forest of the Imperial capital. 24 years-old. He inherits the mask that is proof of the his leadership, and triumphs in genjutsu. He charms others with his foreign beauty and strong power, but conceals loneliness within him.

—Darius' Actions

Just as he does in Harukanaru Toki no Naka de, Darius fights wielding a sword cane. He attacks gracefully in a way that he dances elegantly and lightly around the enemy. His spiritual power allows him to manipulate the attribute of wood, and can create tornadoes to attack his enemies.

Darius can also fire scattered bullets of light from the tip of his sword cane, as well as shoot light from his right hand through his spiritual power. Darius' Hero Skill, "Power of the Heart," deals great damage and additional effects to enemies. It aims at specific enemies and continuously shoots down lightning from above, which can stun them.

Darius will support Horo when she's in a pinch. After defending Horo from an attack, Darius will launch a counterattack to wipe out the surrounding enemies. You'll be able to see various cooperative relationships between characters in Musou Stars.

Hajime Arima (voiced by Takuma Terashima)

Commanding officer of the Elite Squad within the Imperial Army's Vengeful Spirit Subjugation Organization. 23 years-old. There is none superior to him both within the Elite Squad and the Vengeful Spirit Subjugation Organization. He is a noble, soldier-like character who rarely shows a smile. He makes quick decisions and takes swift, resolute action. He carries the duty of protecting the priestess of the Dragon God.

—Hajime Arima's Actions

Just as he does in Harukanaru Toki no Naka de, Hajime fights using a Japanese sword. While attacking the enemy, Hajime will blow them away with slash attacks, as well as fire slashes basked in spiritual energy. There are also plans to add effects to his sword.

By raising his sword overhead, Hajime can perform a launch attack. Additionally, he can manipulate the same wood attribute as Darius through his spiritual power and create tornado attacks.

Hajime's Hero Skill is "Cooperation Technique," which fires a slash that is more powerful depending on the number of allies in the area.

Hajime will support Millennia when she's in a pinch. After defending Millennia from an attack, Hajime will launch a counterattack to wipe out the surrounding enemies.

■ Multiple Endings and Free Scenario

The story of Musou Stars plays out differently from the traditional flow of Musou series titles. One of the features of story mode is that it has a free scenario with multiple endings. The world map is dotted with various types of battle "icons." Among these are "key battles," which clearing advances the story.

By clearing key battles, new key battles will appear in other areas on the world map, key battles that have already appeared will not be playable, and various events will occur. Depending on how you play—including the scenarios you clear, the characters that you befriend, and the items that you possess—the story will diverge and you'll be able to reach a variety of endings.

There are some battles that require you meet certain conditions to take on. In the screenshot below, it shows that Horo is required in order to take on the battle. The player, however, cannot participate as they have not befriended Horo.

There are also battles that will disappear after you clear other battles. In the screenshot below, clearing one key battle resulted in the disappearance of a different battle. The ending is no exception, and you'll need to play story mode multiple times in order to complete all the endings.
Musou Stars is due out for PlayStation 4 and PS Vita in Japan on March 2.
View screenshots of Darius and Hajime Arima at the gallery.
Update 12/16/16 at 11:00 a.m.: This post has been updated with additional information. This article was originally posted on December 15 at 5:08 a.m.