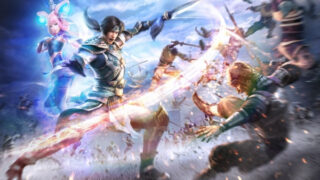 Dynasty Warriors: Eiketsuden is coming to North America and Europe for PlayStation 4 and PS Vita as Dynasty Warriors: Godseekers, Koei Tecmo announced. It will launch digitally across both platforms on January 31 in North America and February 1 in Europe. The strategy RPG originally launched for PlayStation 4, PlayStation 3, and PS Vita in Japan on August 3.
Here's an overview of the game, via Koei Tecmo:
Featuring a wide selection of beloved characters from the Dynasty Warriors universe, Dynasty Warriors: Godseekers will add two new characters to the series' ever-growing roster: Lixia, a girl with magical powers that was sealed in an icy shrine for centuries, and Lei Bin, Zhao Yun's childhood friend and avid lore master!

Dynasty Warriors: Godseekers unfolds during the chaotic end days of the Han dynasty, when ancient China was overwhelmed by uprisings and internal strife within its imperial court. The story follows renowned warrior Zhao Yun and his close friend Lei Bin, who unwittingly liberate a young girl, Lixia, from a mystical prison. The two friends and the mysterious Lixia then find themselves entangled in a pivotal struggle for the salvation of the world, wherein they must navigate the maelstrom that is Three Kingdoms era China, meet countless great warriors and take part in historic battles. In their efforts to unravel the mystery behind Lixia's imprisonment, Zhao Yun and Lei Bin uncover a hidden, terrible fate, forcing them to make difficult decisions in a battle that will echo throughout history.
Watch a set of trailers below. View a set of screenshots at the gallery. Visit the official website here.
Introduction Trailer
Gameplay Trailer #1
https://www.youtube.com/watch?v=ZFDqJ9ETNew
Gameplay Trailer #2
https://www.youtube.com/watch?v=pcY9In7u6mI