Monster Hunter XX announced for 3DS
A followup to Monster Hunter Generations (Monster Hunter X in Japan).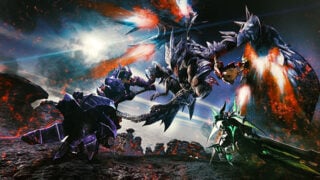 Capcom announced Monster Hunter XX for 3DS during the a Monster Hunter-focused Nintendo Direct today. It will launch in Japan on March 18 for 5,800 yen at retail and 5,546 yen via download.
Save data from previous games will be compatible. If you have save data from Monster Hunter Stories, you'll get Felyne armor that completely turns your Palico into the RPG spin-off's Nabiru (their voice, too).
Capcom detailed six major new elements about Monster Hunter XX, which is a followup to Monster Hunter Generations (which is known as Monster Hunter X in Japan). They are:
New Hunting Styles – The "Brave Style" hunting style (continuous attacks, powerful link attacks and quick evasions) and the "??? Style" (details to be announced in the future).
New Hunting Techniques – New "Hunting Techniques" have been added to all 14 weapon types. Details will be announced in the future.
Prowler Mode Actions Enhanced – Prowler Mode actions have been enhanced. Felynes can now evade by a hair, as well as do a trample jump.
New Fields – New fields have been added, such as "Igun Peak." This is a location very high in the mountains, where there's a cave, waterfall, and historic ruins. There are other new fields, too, such as a desert.
New Base – The "Ryuushiki Ship" appears as a base that has all the elements of both a village and a ship. You can also take on G-rank quests from here.
New Main Monsters – The new main monsters in Monster Hunter XX are "Ouma Diablos" and "Balfark." The former is a dangerous monster with large, parting horns, while the latter is a silver-winged monster whose wings can change form.
In related news, Capcom announced that total sales for Monster Hunter Generations have topped 4.1 million worldwide.
Watch the trailer and Nintendo Direct below. View the first batch of screenshots at the gallery. Visit the official website here.
Trailer
Nintendo Direct
Thanks, Games Talk.