Interview: Digimon World: Next Order producer Kazumasa Habu at NYCC 2016
Habu on PS4 additions, English text in Chinese release, and more.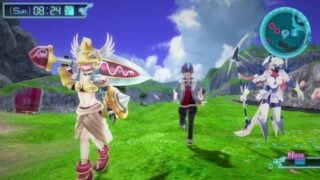 After my first interview with Kazumasa Habu about Digimon Story: Cyber Sleuth at New York Comic-Con in 2015, I returned to the expo again this year to speak with the now-Digimon World: Next Order producer about the upcoming release of the new game in western territories.
Digimon World: Next Order sees players thrown into a Digital World in despair. Machinedramons are running rampant and a mystery needs to be solved. Over 200 Digimon will appear, and players can adventure with two Digimon as they raise, train, feed, and discipline them. Digimon battle on their own and their success depends on the bonds players form with them.
Get the full interview below.
To start us off, can you give me a general overview of the game?

Habu: "There are a lot of games in the Digimon series, but this one specifically is based on the Digimon World series. The Digimon World series started in 1999, so it's been going for about 18 years. The series has been loved by fans for quite a long time. The main concept would be specifically based on the Digimon virtual pet that started off the Digimon World series. The Digimon have a lifetime in this game, so they grow to a certain age and in time they'll die. They don't exist forever. In this short period, you have to figure out how to raise them, you have to feed them, train them for battle, that kind of stuff. If you raise them the right way, they'll obey your orders. But if you don't raise them the right way, they might disobey you or do something else. It all depends on how the player raises the Digimon. That's the biggest concept."

Just to clarify, they'll eventually die even if you raise them correctly, right?

Habu: "Yes, they die either way. Whether you do it right or wrong, they have a certain lifetime. If you raise them the wrong way, their lifetime gets shorter and they'll become bad Digimon."

I see. How long is that lifespan? Will I still have my Digimon from the beginning of the game at the end of the game?

Habu: "Even if you do it quite right, you probably might have to go through two Digimon lifetimes—like one dies and you raise another. So it's not like you raise one Digimon until the end of the game. You'll go over the cycle throughout the entire adventure. Within the Digimon world, your base is right in the middle, and there are powerful enemies located at the sides of the world. You're basically in the middle of a big map, on your way to the bosses at the sides, you'll raise your Digimon, they'll get stronger, and by the time you reach them, they'll be at their maximum level. That's how we made the game."

Can you share a bit about the new content included in the PlayStation 4 version for the overseas release?

Habu: "Of course, since we brought it to PlayStation 4, the graphics have been improved. And we adjusted the balance of the gameplay itself so that it's harder to clear."

Right. That was a complaint with the Japanese release, no?

Habu: "The main consumers in Japan, the real core fans, played the previous games, so they really knew how to play this one. We thought we made it difficult enough for the Japanese core fans, but apparently it wasn't. So we made it more difficult for the overseas release. We have "Easy," "Normal," and "Hard." The Japanese version is Easy mode, then you have the higher difficulty versions for the overseas release. We also added more Digimon and more events—I can't say the number specifically right now, but we added quite a lot of both."

Was this content cut from the PS Vita version? Or was it created entirely new for the overseas release?

Habu: "We made it specifically for the PlayStation 4 version."

You have an English dub this time, which is something you didn't have with Digimon Story: Cyber Sleuth. What compelled you to do a dub this time?

Habu: "The previous game, Cyber Sleuth, which launched in March, was very popular in the States, so that kind of gave us the push to do the English voices this time."

Was that something you wanted to do, but couldn't, for Cyber Sleuth?

Habu: "Indeed. It was because Cyber Sleuth was so popular and sold so well that we were able to put English voices into this one."

You'll have the option to switch between English and Japanese, right?

Habu: "I think it's just English for the U.S. version." (Editor's Note: I'd forgotten this at the time, but the fact sheet mentions both English and Japanese voice-overs, so fear not.)

How does Digimon World: Next Order separate itself from the previous Digimon World releases, Re: Digitize and Re: Digitize Decode?

Habu: "The biggest feature is that you can take two Digimon along with you when you go out on your adventure, which you weren't able to do in the past. And because you can take two along at the same time, if one is in danger, the other Digimon will cover him and that kind of stuff in battle. We also have a new system called ExE Evolution, where the two Digimon can combine together in battle and form a different Digimon. That's one of the big feature in this game."

Is ExE Evolution applicable to every Digimon?

Habu: "Yes, it's possible, but it differs for each Digimon, like how many different types you can evolve to. But basically you can combine every Digimon."

Can you discuss the level of player involvement in battle? Players coming from Cyber Sleuth, which used a turn-based system, will obviously find Next Order to be vastly different.

Habu: "That's one of the base features of the Digimon World series. You have to make your Digimon think about what to do, rather than you tell them, that's what we wanted to do. The main gameplay would be for the hero, yourself, to support the Digimon to think what about what to do, which is why you have to raise them properly. Sometimes they get hungry or have to use the bathroom, so you have to look after them. It's kind of like a pet, when they want to go to sleep or they get sick, you have to look after them. So it's more of supporting the Digimon rather than being the Digimon or giving them direct orders. Sometimes you can give them suggestions about what to do, but they think on their own, so it's more supportive than anything else. You need to be trusted by the Digimon, so you have to raise them well or else they'll evolve into a bad Digimon. If you raise them the right way, you get more options to choose what orders to give them.

"So the main gameplay would be not to give them direct orders. It's a very peculiar kind of gameplay, because it's mainly to support your Digimon. I don't know if you know Tamagotchi, it's kind of like that. They don't obey you sometimes, it's kind of like having a pet and trying to make them do what you want. It takes a while to raise them, but that's why you need to put love into the Digimon you raise."

How do you determine which Digimon to put in the game?

Habu: "For Cyber Sleuth, we included a lot of Digimon, and that number went down a little for Next Order, but that's because the game system is very different. That's one of the main reasons we can't put all of them in Digimon World. We choose which Digimon to implement depending on the game concept. For Cyber Sleuth, for example, we put the Royal Knights in the game because they have an important role. That's another kind of decision we make, like if they have a specific role in the story, we put them in, but others that don't we might have to cut off. As for the new game, as I mentioned before, you can combine the two you take along, so we chose Digimon that were easier to do that. Of course, we have open ears to what Digimon the fans want, so we're not shutting them out. If fans really want a specific Digimon, we're going to consider it."

Just recently, English translations were found in the Chinese version of the game. Can you talk about that?

Habu: "To be honest, we only just found out about that yesterday (October 7). We hadn't heard from anybody. I'm really not sure how that happened. That wasn't supposed to happen, it was kind of an accident."

Does it imply that there was an English version of the game for PS Vita in development as well?

Habu: "A PS Vita localization wasn't planned. The main purpose was to bring the game to PlayStation 4, to update the graphics for PlayStation 4, so we couldn't put that back into PS Vita. The PS Vita market is pretty small overseas, so we wanted to bring out our best in PlayStation 4."

I understand that decision from a business perspective. But I am curious as to how the English text ended up in the Chinese version to begin with.

Habu: "What I heard about why the English text is in there was not because we wanted to release it in English territories. We don't translate from Japanese to Chinese—we go from Japanese to English, then to Chinese, so I'm guessing that's why that was left in there. I'm only guessing, but that's a possibility. I'm not sure if I can say that, but that's what I think. I'm really not aware of how that happened."

You mentioned that Cyber Sleuth sold well, at least well enough to warrant an English dub for Next Order. How did you take to the positive reaction overseas?

Habu: "I wasn't part of the PS Vita version of Digimon World: Next Order, someone else was in charge. (Editor's Note: That would be Yasunori Fujiwara.) I was brought on for the overseas release. I wasn't really sure how popular Cyber Sleuth was going to be in the states. We got to localize Cyber Sleuth because overseas fans signed a petition. We really felt the power of the fans. We're already working on thinking about the next series, so we'd like to know what fans overseas think and try to put it into the new game."

You have a new series coming out in Japan called Digimon Universe: Appli Monsters. What are your thoughts on it?

Habu: "I'm not on that project, but the Appli Monsters team wants to make something that targets a younger audience. It's really different from Digimon overseas, which is more for adults. We want to deliver a good game to guys in their 20s and make a really high quality game for adults, so that's the biggest difference from Appli Monsters. Maybe if Appli Monsters goes on for a couple of years and becomes really popular, we can make something that both Appli Monsters kid fans and adult fans can enjoy."

Our recent Digimon games have been PlayStation 4 ports of PS Vita games. Would you consider doing a PlayStation 4 game from the get-go?

Habu: "Of course."

Do it.

Habu: "(Laughs.)"

Thank you for your time, Habu-san.
Digimon World: Next Order is due out for PlayStation 4 in North America and Europe in early 2017.