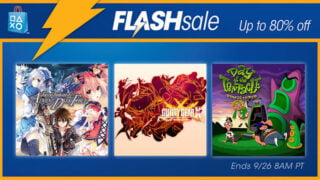 Sony Interactive Entertainment America is holding an animation-focused PlayStation Network flash sale this weekend with up to up to 80 percent off titles. Notable titles include Digimon Story: Cyber Sleuth for $23.99 (normally $59.99), Fairy Fencer F: Advent Dark Force for $23.99 (normally $59.99), Tales of Zestiria for $20.39 (normally $59.99), and more.
The flash sale starts today and ends at 11:00 a.m. PT on Monday, September 26.
Get the full list of discounts below. Visit the sales page here.
| Platform | Title | Sale Price | Original Price |
| --- | --- | --- | --- |
| PS4 | Adventure Time: Finn & Jake Investigations | $7.99 | $19.99 |
| PS4 | Akiba's Trip: Undead & Undressed | $11.99 | $29.99 |
| PS4 | BlazBlue: Chrono Phantasma Extend | $14.99 | $49.99 |
| PS4 | Broken Age (Cross-Buy) | $4.99 | $24.99 |
| PS4 | Broken Sword 5 – The Serpent's Curse | $4.99 | $24.99 |
| PS4 | Child of Light Ultimate Edition | $5.62 | $22.49 |
| PS4 | Chronicles of Teddy: Harmony Of Exidus | $5.99 | $14.99 |
| PS4 | Dariusburst Chronicle Saviours | $23.99 | $59.99 |
| PS4 | Day of the Tentacle Remastered (Cross-Buy) | $5.99 | $14.99 |
| PS4 | Digimon Story: Cyber Sleuth | $23.99 | $59.99 |
| PS4 | Dragon Ball Xenoverse | $15.99 | $39.99 |
| PS4 | Dragon Ball Xenoverse + Season Pass Bundle | $25.99 | $64.99 |
| PS4 | Fairy Fencer F: Advent Dark Force | $23.99 | $59.99 |
| PS4 | Grim Fandango Remastered (Cross-Buy) | $2.99 | $14.99 |
| PS4 | Guilty Gear Xrd: Revelator | $23.99 | $59.99 |
| PS4 | J-Stars Victory VS+ | $14.99 | $59.99 |
| PS4 | Megadimension Neptunia VII | $14.99 | $49.99 |
| PS4 | Naruto Shippuden: Ultimate Ninja Storm 4 | $23.99 | $59.99 |
| PS4 | Naruto Shippuden: Ultimate Ninja Storm 4 – Deluxe Edition | $31.99 | $79.99 |
| PS4 | Nitroplus Blasterz: Heroines Infinite Duel | $11.99 | $29.99 |
| PS4 | Omega Quintet | $5.99 | $39.99 |
| PS4 | One Piece: Pirate Warriors 3 | $14.99 | $59.99 |
| PS4 | Rayman Legends | $11.99 | $39.99 |
| PS4 | Rocketbirds 2: Evolution (Cross-Buy) | $7.99 | $19.99 |
| PS4 | Saint Seiya: Soldiers' Soul | $14.99 | $59.99 |
| PS4 | Shantae and the Pirate's Curse | $7.99 | $19.99 |
| PS4 | Shantae: Risky's Revenge – Director's Cut | $2.99 | $9.99 |
| PS4 | Shiftlings | $4.94 | $14.99 |
| PS4 | Stardust Vanguards | $3.49 | $9.99 |
| PS4 | Sword Art Online Re: Hollow Fragment | $4.99 | $19.99 |
| PS4 | Sword Art Online: Lost Song | $23.99 | $59.99 |
| PS4 | Tales of Zestiria | $20.39 | $59.99 |
| PS4 | The Amazing Spider-Man 2 – Gold Edition Bundle | $19.79 | $59.99 |
| PS4 | The Legend Of Korra | $4.94 | $14.99 |
| PS4 | The Peanuts Movie: Snoopy's Grand Adventure | $19.49 | $49.99 |
| PS4 | This War Of Mine: The Little One's | $11.99 | $29.99 |
| PS3 | Adventure Time: Finn & Jake Investigations | $7.99 | $19.99 |
| PS3 | Akiba's Trip: Undead & Undressed | $7.99 | $19.99 |
| PS3 | Aquapazza | $11.99 | $29.99 |
| PS3 | Bolt – Digital | $3.74 | $14.99 |
| PS3 | Cars 2: The Video Game | $4.99 | $19.99 |
| PS3 | Catherine | $4.99 | $19.99 |
| PS3 | Child of Light Ultimate Edition | $5.62 | $22.49 |
| PS3 | Disney Infinity 3.0 | $7.49 | $29.99 |
| PS3 | Disney Pixar A Bug's Life (psone Classic) | $1.49 | $5.99 |
| PS3 | Disney Pixar Brave | $4.99 | $19.99 |
| PS3 | Disney Pixar Monsters Inc. Scream Team (PSone Classic) | $1.49 | $5.99 |
| PS3 | Disney Pixar Toy Story 2 (PSone Classic) | $1.49 | $5.99 |
| PS3 | Disney Pixar Toy Story Racer (PSone Classic) | $1.49 | $5.99 |
| PS3 | Disney Universe | $4.99 | $19.99 |
| PS3 | Disney's Hercules (PSone Classic) | $1.49 | $5.99 |
| PS3 | Disney's Lilo & Stitch (PSone Classic) | $1.49 | $5.99 |
| PS3 | Disney's Peter Pan: Return To Never Land (PSone Classic) | $1.49 | $5.99 |
| PS3 | Disney's The Emperor's New Groove (PSone Classic) | $1.49 | $5.99 |
| PS3 | Disney's The Little Mermaid II (PSone Classic) | $1.49 | $5.99 |
| PS3 | Dragon Ball Xenoverse | $11.99 | $29.99 |
| PS3 | Dragon Ball Xenoverse + Season Pass Bundle | $21.99 | $54.99 |
| PS3 | Ducktales Remastered | $4.49 | $14.99 |
| PS3 | Guilty Gear Xrd: Revelator | $19.99 | $49.99 |
| PS3 | J-Stars Victory VS+ | $9.99 | $39.99 |
| PS3 | Mamorokun Curse! | $1.49 | $4.99 |
| PS3 | Mega Man Legends (PSone Classic) | $3.99 | $9.99 |
| PS3 | Monster High: New Ghoul in School | $7.99 | $19.99 |
| PS3 | Ni No Kuni: Wrath Of The White Witch | $7.99 | $19.99 |
| PS3 | Nitroplus Blasterz: Heroines Infinite Duel | $11.99 | $29.99 |
| PS3 | One Piece: Pirate Warriors 3 | $12.49 | $49.99 |
| PS3 | Ragnarok Odyssey Ace | $7.99 | $19.99 |
| PS3 | Saint Seiya: Brave Soldiers | $12.49 | $49.99 |
| PS3 | Saint Seiya: Soldiers' Soul | $9.99 | $39.99 |
| PS3 | Shin Megami Tensei: Digital Devil Saga (PS2 Classic) | $3.99 | $9.99 |
| PS3 | Skullgirls Encore | $1.99 | $9.99 |
| PS3 | South Park: The Stick Of Truth | $7.99 | $19.99 |
| PS3 | Tales of Symphonia Chronicles (Bundle) | $4.99 | $19.99 |
| PS3 | Tales of Zestiria | $16.99 | $49.99 |
| PS3 | Tears To Tiara II: Heir Of The Overlord | $15.99 | $39.99 |
| PS3 | The Amazing Spider-Man – Gold Edition Bundle | $9.89 | $29.99 |
| PS3 | The Amazing Spider-Man 2 – Gold Edition Bundle | $14.39 | $39.99 |
| PS3 | The Amazing Spider-Man Franchise Pack | $21.44 | $64.99 |
| PS3 | The Legend Of Korra | $4.94 | $14.99 |
| PS3 | Toy Story Mania | $4.99 | $19.99 |
| PS3 | Transformers – Franchise Pack Bundle | $27.99 | $79.99 |
| PS3 | Valiant Hearts: The Great War | $3.74 | $14.99 |
| PS Vita | Akiba's Trip: Undead & Undressed | $7.99 | $19.99 |
| PS Vita | Broken Age (Cross-Buy) | $4.99 | $24.99 |
| PS Vita | Child of Light Ultimate Edition | $5.62 | $22.49 |
| PS Vita | Corpse Party: Blood Drive | $11.99 | $29.99 |
| PS Vita | Dariusburst Chronicle Saviours | $15.99 | $39.99 |
| PS Vita | Day of the Tentacle Remastered (Cross-Buy) | $5.99 | $14.99 |
| PS Vita | Digimon Story: Cyber Sleuth | $15.99 | $39.99 |
| PS Vita | Grim Fandango Remastered (Cross-Buy) | $2.99 | $14.99 |
| PS Vita | Hyperdimension Neptunia U: Action Unleashed | $8.99 | $29.99 |
| PS Vita | J-Stars Victory VS+ | $9.99 | $39.99 |
| PS Vita | One Piece: Pirate Warriors 3 | $9.99 | $39.99 |
| PS Vita | Ragnarok Odyssey Ace | $7.99 | $19.99 |
| PS Vita | Rocketbirds 2: Evolution (Cross-Buy) | $7.99 | $19.99 |
| PS Vita | Senran Kagura: Bon Appetit | $5.99 | $14.99 |
| PS Vita | Senran Kagura: Shinovi Versus | $15.99 | $39.99 |
| PS Vita | Superbeat Xonic | $15.99 | $39.99 |
| PS Vita | Sword Art Online: Lost Song | $15.99 | $39.99 |
| PS Vita | Sword Art Online: Hollow Fragment | $4.99 | $19.99 |
| PS Vita | The Amazing Spider-Man | $7.49 | $29.99 |
| PS Vita | The Arland Atelier Trilogy Plus | $31.99 | $79.99 |
| PSP | DJMAX Portable 3 | $15.99 | $39.99 |
| PSP | Harvest Moon: Boy + Girl | $5.99 | $14.99 |
| PSP | Star Wars: The Clone Wars- Republic Heroes | $2.49 | $9.99 |