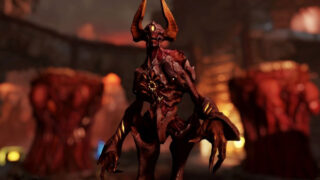 The DOOM multiplayer downloadable content "Unto the Evil" first announced at E3 2016 is now available for download, Bethesda Softworks announced during its QuakeCon 2016 opening ceremony.
"Unto the Evil" offers the following new content:
Three new diverse multiplayer maps: "Offering," "Catacylsm," and "Ritual."
New weapon: UAC EMG Pistol.
New equipment: Kinetic Mine.
New playable demon: Harvester.
New armor sets, patterns, colors, and taunts, as well as new hack modules.
PartyPlay System: Allows anyone to play any of the new maps from "Unto the Evil," as long as you party up with a friend who owns the downloadable content. Similarly, if you own the downloadable content, the "Unto the Evil" downloadable content maps will be accessible to anyone who's in your party as part of the map rotation.
DOOM is available across PlayStation 4, Xbox One, and PC.
Watch the "Unto the Evil" launch trailer below. View a set of screenshots at the gallery.