Mary Skelter details The Solar Order, Michiru and Hitsuka
The latest on Compile Heart's upcoming PS Vita RPG.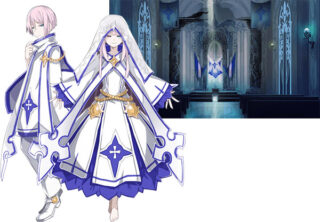 Compile Heart has updated the official website for Divine Prison Tower: Mary Skelter, its upcoming PS Vita dungeon RPG, with details on an organization known as The Solar Order, as well as the pair behind it.
Get the information below.
■ World

The Solar Order

While living in captivity in the living prison known as Jail, one woman establishes a organization headlined by hope and vitality. It is called "The Solar Order."

Its headquarters is stationed in the Liberation District,

The Order is headquartered in the Liberation District, where they offer food, provide social opportunities, run an orphanage, etc.

Michiru,founder of The Solar Order, is known by members of the Order as "Oohime," and Michiru preaches to people about how they live because of a prophecy.

■ Characters

Oohime / Michiru (voiced by Maya Yoshioka)

The founder of The Solar Order who works in accordance to a prophecy that states "The day will come where the sun god burns away that which covers the sky, opening the way to a life beyond prison." Though known by many within the organization as Oohime, she refers to herself as Michiru. She enjoys speaking ambiguously to mess with people, but nevertheless carries something of a divine air about her.

Hitsuka (voiced by Shunichi Toki)

The calm, but intimidating vice-founder of The Solar Order, Hitsuka can be found constantly near Michiru. He spends his days attending to Michiru's needs and explaining her words and deeds to the people.
If you missed them, previous updates detailed Job System, the Jail and Confinement Areas, the Liberation District, Dawn Liberation Front, the Chishiki Girls, Blood Skelter mode, the protagonist's actions, the three major desires, the basics of battle, Nightmare Battles, characters Princess Kaguya and Rapunzel, Thumbelina, Snow White, and Sleeping Beauty, as well as the setting, and characters Jack, Alice, and Little Red Riding Hood.
Divine Prison Tower: Mary Skelter is due out in Japan on October 13.