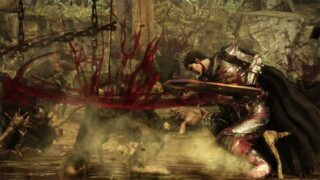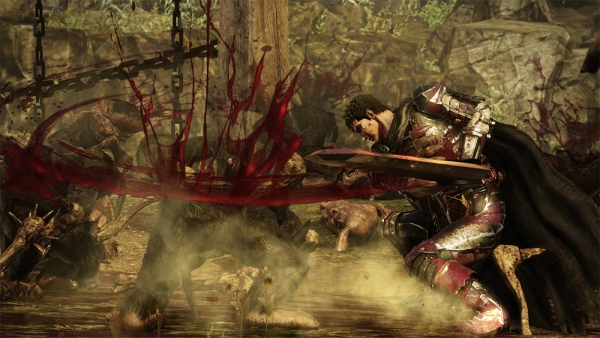 Koei Tecmo has updated the official website for its upcoming Berserk game, detailing playable characters Guts, Griffith, Casca, and Judeau, as well as some of the game' systems. There are plenty of new screenshots, too.
Get the information below.
■ Characters

Guts (voiced by Hiroaki Iwanaga)

A wandering mercenary who joins the "Band of the Hawk" led by Griffith, who defeated him. He was the raid unit leader of the group. He left the group after the war as he was now on equal footing with Griffith.

Griffith (voiced by Takahiro Sakurai)

Leader of the mercenary group "Band of the Hawk," feared as the death of the battlefield. A young man of clear beauty who possesses the charisma to attract others. He dreams of procuring his own nation.

Casca (voiced by Toa Yukinari)

Unit commander of the Band of the Hawk. She joined the group after she was rescued as a child by Griffith. Since then, she has idolized Griffith and desires to be his sword. She and Guts don't click from the very beginning of his enlistment in the group, and the two argue about every little thing.

Judeau (voiced by Yuki Kaji)

A member of the Band of the Hawk. A skillful warrior who can handle anything flawlessly. He told Guts when he first joined the Band of the Hawk that there was definitely a place for him in the group. After that, he and Guts built up a good relationship.

■ System

Kill-Crush

In battle, "Musou" and "Berserk" unite to create powerful action. The more you fight, the more brutal your attacks, the more gruesome they become, and you can even split monster enemies in two. Kill and crush the enemies that attack.

Survive Against Powerful Opponents

Monsters known as "Apostles" that unleash powerful attacks will stand in your way as enemies. These are tense battles against enemies so powerful, usual tactics will not work. Survive these battles of certain death.

Various Weapons

In addition to the large sword "Dragonslayer" used by the protagonist Guts, there are various other weapons, including the cannon equipped to Guts' artificial arm and bullets that explode after a certain amount of time, and a rapid-fire crossbow for long range attacks.
Berserk is due out for PlayStation 4 and PS Vita at retail, and PlayStation 3 via download, in Japan on September 21, and for PlayStation 4, PS Vita, and PC via Steam in North America and Europe on an unannounced date. In Japan, first-print copies of the game include a wet outfit for Casca.
View the screenshots at the gallery.