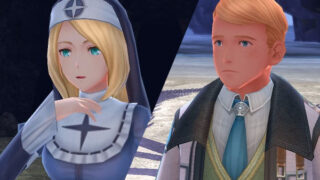 Falcom has released new Ys VIII: Lacrimosa of DANA information and screenshots detailing new characters Sister Nia and Lihit, and the Endless Threat and sub dungeon gameplay systems.
Get the information below.
■ Characters

Sister Nia (voiced by Yuki Nagaku)

"The master has spoken… 'Suffering is the greatest blessing.'"

A pious nun from the Celestrial (Hoshikiza) Church, the religion of the Romun Empire, who is doing missionary work in Xandria. She is an exemplary nun with a kind heart, but the abundance of her religious piety is not common, she has a few characteristics that are slightly off.

She believes everything happens according to God's will. For instance, she perceives the sinking of the boat and the drifter life on The Isle of Seiren as trials given by God.

Lihit (Ryohei Arai)

"Eeek! P-please, I'm begging you, don't come over here…"

A young man with a timid and forlorn attitude. Instead of the doctor who was unable to board the ship due to circumstances, he takes the role of ship doctor, even though he is only a medical student, and has the misfortune of being caught up in the shipwreck accident.

Even though he has a lot of knowledge and discernment, he lacks actual medical experience, so he has no confidence in his skills.

■ System

Endless Threats

As you battle to the bitter end in "Counter-Attack Battles" to defend your base in cooperation with the castaways, you'll be able to take on special Counter-Attack Battles known as "Endless Threats."

An "Endless Threat" is a super-difficult Counter-Attack Battle where large enemies, such as the huge and powerful Ancients you've encountered on The Isle of Seiren, will attack your base one after the other.

You'll need to have perfectly leveled and equipped your characters, and strengthened your base facilities, but similar to a regular Counter-Attack Battle, you'll be able to obtain a variety of rewards based on your results if you win.

Sub Dungeons

In Ys VIII, there are sub dungeons not connected to the main story scattered all over the Isle of Seiren.

There's an "Underground Waterway" formed by natural erosion, a "Coastal Cave" once utilized by pirates who embarked on the island long ago, "Big Stone Pillar Airholes" inhabited by strange plankton, and various other places of those types.

While exploring The Isle of Seiren, you may be able to find unexpected items and information by taking on these sub dungeons, and obtain "Adventurer's Tools" that will help you on your adventure. Depending on the situation, you might even find a missing castaway that went into hiding…
Ys VIII: Lacrimosa of DANA is due out for PS Vita in Japan on July 21 and for PlayStation 4 in 2017.
View the screenshots at the gallery.