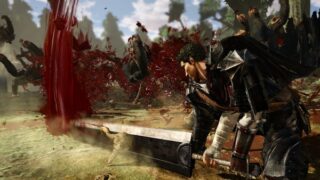 Koei Tecmo has released the first trailer and opened the official website for its Omega Force-developed Berserk game.
Get the first official details below.
Kill-Crush Action

The one-against-one thousand Warriors series and the uniquely gruesome battle series Berserk unite. Wield a grand sword bigger than yourself and slice the enemy in two, kill and crush with "Kill-Crush Action" overflowing with power. Experience the overwhelming destructive power of breaking a siege with a single swing.

A Grand and Deep Story

The game starts from the "Golden Age Arc" popular among original fans, up until the end of the "Millennium Falcon Arc" where the protagonist Guts, on his journey for revenge, acquires his invaluable comrades. You'll be able to relive the grand world of Berserk. Additionally, intense scenes reproduced via the anime movie and 3D models are included, and interactions between the members of the Band of the Hawk not included in the movie are being incorporated. This extensive story is being developed using an immense volume of graphics.

Various Characters

In addition to the story's protagonist Guts, popular characters from the original work will also appear. These characters, who posses a variety of special skills, will showcase a number of unique actions in battle. Additionally, the major characters will feature the same voice actors as from the anime movie and July 2016-due television anime.
Berserk is due out for PlayStation 4 and PS Vita at retail, and PlayStation 3 via download, in Japan on September 21, and for PlayStation 4, PS Vita, and PC via Steam in North America and Europe on an unannounced date. In Japan, first-print copies of the game include a wet outfit for Casca.
Watch the trailer below. View the first screenshots at the gallery.