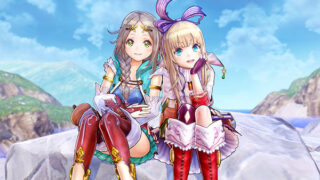 Gust has released new information and screenshots for Atelier Firis: The Alchemist of the Mysterious Journey, detailing new characters Ilmeria Von Leinweber and Revy Berger, who were first introduced in game magazines earlier this week, as well as other new elements.
Get the new details below.
■ Characters

Ilmeria Von Leinweber

Age: 15
Job: Alchemist
Voiced by: Sayaka Kaneko
Illustrated by: Yuugen

A girl who doesn't hesitate to call herself a genius alchemist. Although she has a lot of pride, she is diligent and hard-working, and has a direct attitude towards alchemy. She also hates to lose and is a bit childish. However, she is honest at her core. As both Ilmeria and Firis are aiming to become full-fledged alchemists, she acts as her rival.

—Ilmeria and Firis meet. Ilmeria's lively personally will have a great effect on Firis.

—Ilmeria is a self-proclaimed genius alchemist whose eyes are always filled with confidence.

—As a self-proclaimed genius alchemist, Ilmeria naturally excels in battle. She uses a staff to battle monsters.

—There is still a lot about Ilmeria that is childish, and her direct personality might even cause some trouble…

Revy Berger

Age: 24
Job: Swordsman
Voiced by: Junta Terashima
Illustrated by: NOCO

A wandering swordsman traveling solely to become stronger. For this goal, he sleeps all over, and seeks out various weapons and tools. He seems scary based on his outward appearance, but contrary to the way he looks, he is very good at housework. He has a serious personality, but seems to often do crazy things, and can also sometimes be absent-minded.

—Just like Firis, Revy is traveling all over. While he says he dislikes socializing, he appears to be relied on by various people since he is a caring person.

—Even when being thanked or praised, he is not embarrassed, but rather appears disinterested.

—Although you wouldn't think it based on his cool atmosphere, he is great at housework. While he seems to be seeking strength, his quest for housework is also equivalent.

—Revy uses a sword in battle and acts as support for Firis.

■ Changing Clothes to Suit the Environment

Firis will travel along various roads with significantly different climates and environments, including prairies, snowy mountains, and wastelands. On such a journey, she'll need clothes suited to each environment. By selecting the best from among a large number of clothes for Firis, you'll be able to explore and move about the fields more pleasantly.

—In areas where the scorching sun is blazing down, clothes that will keep you cool are recommended.

■ Create Recipes

Firis will have a variety of experiences on her journey, from meeting new characters to collecting items and synthesizing. All of these combined are indispensable in bringing about new "ideas" for Firis in her journey to become a full-fledged alchemist.

—Through ideas, your recipes for synthesizing new items will gradually increase. Since there are cases where you'll get unexpected recipes through unexpected actions, you should freely let loose towards a variety of experiences.

■ Collect Items Through Various Methods

The vast fields you'll travel are full of various things—natural things like plants, flowers, and rocks, and artificial objects, too. Within some of these things are items that can be collected and used as ingredients in synthesis, and the methods for obtaining them vary greatly. Depending on how you collect them, and since sometimes the ingredients you collect will change, you should check every nook and corner of the world in search of rare items.

—You can get a stone item from this big rock in the prairie. Break it with your staff to get the material.

—The rock can also be broken using an item. The item that you use will be consumed, but perhaps you can get a rare item out of it?

■ Item Synthesis

By coming up with a recipe and putting the ingredients in order, you can make your own items through "synthesis." You can put the items that will act as your ingredients on a panel within the alchemy pot to easily synthesize items. There is also a new "catalyst" element that has various effects, which by utilizing you'll be able to create even more powerful items.

Step 1: Choose Your Recipe

Select the item you want to create from the recipes that you know. You'll gain new recipes through new "ideas."

Step 2: Choose a Catalyst

By using a catalyst, several lines will appear on the panel based on the catalyst of choice. There are various bonuses for each line.

Step 3: Throw in the Ingredients and Get Bonuses

After selecting your catalyst, throw the ingredients into the alchemy pot. Since they have various forms, where you choose to insert the ingredients on the panel is important.

From here, by inserting ingredients in accordance with each line in the panel, such as white and green, you can earn bonuses, and the completed item will have new effects. Throw in all your in ingredients, choose the characteristics for your completed item, and complete your synthesis.
Atelier Firis: The Alchemist of the Mysterious Journey is due out for PlayStation 4 and PS Vita in Japan this fall.
View the screenshots at the gallery.