Toukiden 2 second trailer, PS Vita demo now available in Japan
PS Vita demo supports cross-play with PS4 demo.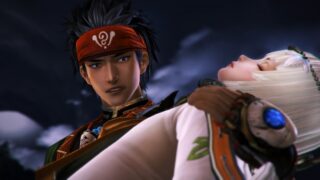 Koei Tecmo has released the second official trailer and the PS Vita demo for Toukiden 2 in Japan.
The 1.6 gigabyte PS Vita demo can be downloaded via the Japanese PlayStation Store. As previously announced, the PS Vita demo supports cross-play online multiplayer with the PlayStation 4 demo, which has been available since April 11.
The PlayStation 4 demo was also patched today with a number of fixes, including PS Vita cross-play support.
If you missed it, catch our latest Toukiden 2 update—detailing the game's story, and newest characters and Oni—here.
Toukiden 2 is due out for PlayStation 4, PlayStation 3, and PS Vita in Japan on July 28.
Watch the trailer below.
https://www.youtube.com/watch?v=iqwzRrG7FXs