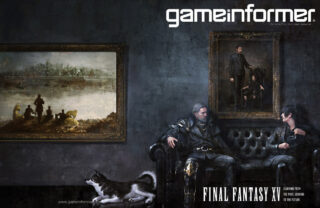 Game Informer's May 2016 cover story is Final Fantasy XV, the outlet announced.
The magazine's 20-page cover story offers an in-depth look at the game with exclusive information. Game Informer visited Square Enix's offices in Tokyo, where it had "unprecedented access, playing the game for hours" and interviewing the team behind the title about "exploration, narrative, combat, summons, and more."
Outside of the magazine, the Final Fantasy XV coverage will continue at Game Informer's online hub throughout the month of April. "We dive into the characters and locations, interview the team, and get some new details out of Final Fantasy VII Remake producer Yoshinori Kitase," Game Informer teases.
The May issue of Game Informer also includes a big feature on The Banner Saga 2, a chat with Clueless Gamer's Aaron Bleyaert, a look at the current virtual reality landscape, and more.
Final Fantasy XV is due out for PlayStation 4 and Xbox One on September 30.
Watch Game Informer's coverage trailer below.