Way of the Samurai 3 coming to PC via Steam
PlayStation 3 and Xbox 360 game set for PC.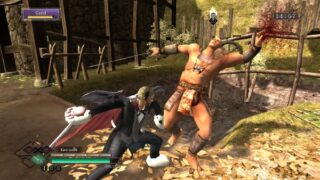 Ghostlight Interactive will bring Way of the Samurai 3, which is currently available for PlayStation 3 and Xbox 360, to PC via Steam, the company announced.
Here's the full fact sheet:
Overview

Honor, sacrifice, betrayal… Your choices make you who you are. How will history remember you?

You must wield the sword of a mysterious lone samurai during Japan's turbulent Sengoku era, in one of the most atmospheric action RPGs ever created.

Explore the villages, body-strewn battlefields, bandit fortresses, immense castles and local town of Amana, in an open world bustling with a rich cast of colorful characters that you can help, ignore or victimise.

Choose your friends and enemies carefully in a game where every decision has far-reaching consequences, and where finishing the game is just the beginning of your journey…

Features

The Butterfly Effect – More than 20 different endings. Your every action, no matter how subtle or ludicrous, could set in motion a huge variety of events, allowing for huge replayability. Explore new narrative paths, reveal new allies… and enemies!
Huge Customization – Craft your own unique weapons from over 200 different parts. Create the ultimate unbreakable weapon to suit your preferred fighting style. Forge lethal swords, spears, pole axes and more outlandish weaponry and discover hundreds of new abilities as you become a true master of each weapon!
Reward System and Samurai Rating – Your actions and conduct will reward you with Samurai Points and Titles, all of which unlock new game features, customization options, outfits and accessories. Live as an honourable samurai, wallow in the low life of a bandit or strike your own path! Your choices lead to new endings, strange followers and other unexpected outcomes.
The Pen Can Be Mightier Than the Sword – Fight your enemies by force or take the diplomatic route, using subtle gestures like the unsheathing of your sword or kowtowing. Featuring an extensive dialogue tree, combo system and much, much more!
A release date was not announced, but Ghostlight have said that they are "confident that the game could be ready for release in the near future."
View the first screenshots of the PC version at the gallery.