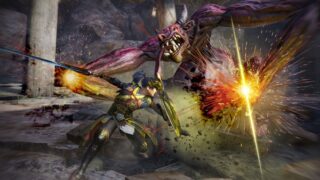 Toukiden 2 will launch for PlayStation 4, PlayStation 3, and PS Vita in Japan on June 30, Koei Tecmo announced. It will cost 7,800 yen on PlayStation 4 and PS3, and 6,800 yen on PS Vita.
A "Treasure Box" limited edition will cost 11,800 yen on PlayStation 4 and PS3, and 10,800 yen on PS Vita. It will include a special book of paintings, original soundtrack CD, nine character illustration clear files, and a download for exclusive armor.
GameCity and Amazon Japan exclusive sets are also being prepared. It will cost 19,800 yen on PlayStation 4 and PS3, and 18,800 yen on PS Vita. It will include the contents of the "Treasure Box" edition in addition to 17 Slayer charms, two original clear files, and a download code for the "Nyaburaham Rinnyan" exclusive Mitama.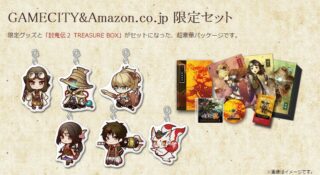 A PlayStation 4 demo will be released on April 11. PlayStation Plus subscribers will be able to download it three days in advance. Niconico Premium users can also get a code to download the demo three days in advance (information here). You can apply to get the code between March 26 and March 27 at 23:59 Japan time.
A PS Vita demo is also being prepared, but a release date has not yet been announced.
Koei Tecmo also announced:
In the character editor, you can edit name, gender, hair, face (contours, eyebrows, eyes, nose, and mouth), ornaments, body, voice, and weapons. View a few images here.
New character Queen will be voiced by Shoko Nakagawa.
It's good to have save data from Toukiden: Age of Demons or Toukiden Kiwami. There is no equipment transferring, though.
The strength of demons is less than after the Kiwami update. Both the story mode and multiplayer mode degrees of difficulty are being regulated, the former so that it doesn't disrupt the story. Powerful demons and such are being prepared for the game's end content.
Some sort of Tenko feature will certainly be put in.
You'll mingle with characters from the previous game every now and then.
There will be purification ceremonies.
You can broadcast sound on PS4 this time.
Thee will be six areas each with different features. Scenery from the previous game, such as castles, will also appear.
Studio 4C will make a promotion anime and manga for Toukiden 2. The manga will begin in the June 27-launched issue of Dengeki Maou. Illustration is by Tousen, Yuu Hijikata, and Yoshiada Tsutsumi.
Watch some low-quality recorded footage from the event below.
Thanks, Games Talk (2).