PlayStation VR launches October 2016 for $399
50 games due out by the end of 2016.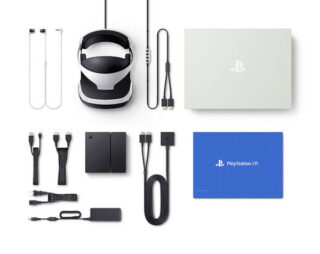 PlayStation VR will launch for $399 / 399 Euros / £349 / 44,980 yen in October 2016, Sony Computer Entertainment announced at the Game Developers Conference.
The Playroom VR will be available as a free download to all PlayStation VR owners simultaneously with the launch of the platform.
Here are the hardware's specifications:
Display: OLED
Screen Size: 5.7″
Resolution: 1920 x RGB x 1080 (960 x RGB x 1080 per eye)
Refresh Rate: 120 Hz, 90 Hz
Sensors: 360 Degree Tracking / 9 LEDs
Field of view: Approximately 100 degrees
Latency: Less than 18ms
Controller: DualShock 4 and PlayStation Move
PlayStation VR also offers a "Cinematic Mode," which lets users enjoy a variety of content on a large virtual screen at three different zoom levels while wearing the headset. Supported content for Cinematic Mode includes standadr PlayStation 4 games and videos, as well as a large variety of PlayStation 4 features including Share Play and Live from PlayStation. An updated Media Player application will let users enjoy 360-degree photos and videos captured by devices such as omnidirectional cameras.
Sony is tracking over 50 PlayStation VR titles to be released by the end of 2016, including:
Eagle Flight (Ubisoft)
EVE: Valkyrie (CCP Games)
Headmaster (Frame Interactive)
Wayward Sky (Uber Entertainment)
RIGS: Mechanized Combat League (SCE WWS)
Tumble VR (SCE WWS)
Until Dawn: Rush of Blood (SCE WWS)
PlayStation VR Worlds (SCE WWS)
More than 230 developers are building content for PlayStation VR, from smaller independent teams to larger studios such as 2K Games and Ubisoft. Here is the full list provided by Sony:
Japan

Active Gaming Media Inc.
Aquire Corp.
Arc System Works Co., Ltd.
Bandai Namco Game Studios Inc.
Bimboosoft
Capcom Co., Ltd.
Colopl, Inc.
Cygames, Inc.
D3 Publisher Inc.
Digital Works Entertainment Inc.
FromSoftware Inc.
Gemdrops, Inc.
GREE, Inc.
Idea Factory Co., Ltd.
Kadokawa Games, Ltd.
Koei Tecmo Games Co., Ltd.
Konami Digital Entertainment Co., Ltd.
Level-5 Inc.
Mages Inc.
Marvelous Inc.
Monobit Inc.
Polygon Magic Inc.
Sega Games Co., Ltd.
Solid Sphere, Inc.
Spike Chunsoft Co., Ltd.
Square Enix Co., Ltd.
Sun Corporation, Inc.
Wise Inc.
Xing Inc.

Asia

Beijing Phantomisreal Technical Co., Ltd.
Beijing Shi Guang Meng Huan Technology Ltd.
Beijing Wansiwei Culture Development Co., Ltd
Fighter Network Tech Co., Ltd
Gamepoch, Inc.
Geronimo Interactive Co., Ltd
Hangzhou Yuanqu Technology Co., Ltd.
Happy Elements
Joycity Corporation
Nekcom Entertainment
NetEase (Hangzhou) Network Co., Ltd
Ourpalm Co., Ltd.
Perfect World Co., Ltd.
ROI Games
Shanghai Famiku Co., Ltd.
Shanghai Renyou Network Technology Limited
Shanghai SinceMe Network Technology
Shanghai Xindong Network Corporation Limited
Skonec Entertainment
Suzhou Snail Digital Technology CO., Ltd
TianShe Media Co., Ltd.
Ultimate Creators Technology (Beijing) Co., Ltd.
Userjoy Technology Co., Ltd.
Winking Entertainment Corporation
Xiamen Happiness Technology, Ltd., Co.
XPEC Entertainment Inc.

North America

2K Games
4 Corner Games
Archiact Interactive Ltd.
Charm Games
Cloudhead Games
Cyan, Inc.
Electronic Arts Inc.
E McNeill
Enhance Games
Enyx Studios
FarSight Studios
Finish Line Games
Fire Face
Fire Hose Games
Flippfly
Frame Interactive
Frima Originals
GameCoder Studios
Glass Bottom Games
Glowstick Games
Happy Dance Studios
Harmonix Music Systems, Inc.
Headless Chicken Games
Heavy Iron Studios
High Voltage Software, Inc.
Highwire Games
Hollow Games
Icosahedra
IMGNATION Studio
IN|Framez Technology Corp.
Innervision Games
Iris VR Inc.
Legendary
Limitless Ltd.
Madorium Interactive
Major League Baseball Advanced Media
Namazu Studios LLC
N-Fusion Interactive Entertainment
Niko Maki
No Goblin
OPQAM
Other Ocean
Otherworld Interactive
Phantom Compass Pixel Ripped Inc
Polytron/ Kokoromi
PouncingKitten Games
Prologue Games
RalphVR
Refract
Reload Studios
Schell Games LLC
Skybound Interactive
Slice VR
Solus Games
Steel Crate Games
Sunken Places
The Stork Burnt Down
Three One Zero
Totwise
Turbo Button
Uber Entertainment
VirZOOM Inc.
VRMonkey
Warner Bros. Interactive Entertainment
White Elk LLC
White Lotus Interactive, LLC
ZeroTransform

Europe / PAL

Abstraction Games B.V.
Agharta Studio
Aldin Dynamics
Atom Universe Ltd
Beatshapers Ltd.
Big Ant Studios
bitComposer Interactive GmbH
Black Forest Games GmbH
Blunt Instrument Studios
Boneloaf
Bossa Studios
Bulkhead Interactive
CCP Games
Chroma Coda
Climax Studios
Dakko Dakko
Digital Confections
Escapist Games Ltd
Fabrik
Fierce Kaiju
Fireproof Games FuturLab
GOATi Entertainment Pty Ltd.
Grip Digital s.r.o.
Hammerlabs
Hello There
Honor Code
Just Add Water (Development), Ltd.
Just Funny Games
Kite & Lightning
Llamasoft Ltd.
Lucid Games
Milestone Srl.
Mindfield Games
Mint Games
MixedBag
narayana games
Neko Entertainment
Nnooo
Paw Print Games
Penny Black Studios
Pentadimensional Games
Poppermost Productions
Psytec Games Ltd
Pub Games Rebellion
Recluse Industries
Secret Sorcery Limited
Sigtrap
Simian Squared
Slightly Mad Studios Ltd.
Sólfar Studios
Spunge Games Pty Ltd.
StellarVR
Stirfire Studios
Sumo Digital Ltd.
Tammeka
Triangular Pixels
Ubisoft
Untold Games
Virtual Toys
VR Bits
vTime Limited
White Paper Games
Wonderstruck
Zen Studios Ltd.
Zoë Mode
Sony also announced that is partnering with Electronic Arts and LucasFilm to create a Star Wars Battlefront "gaming experience" exclusively for PlayStation VR. More news about this is expected in the coming months.
Watch a new set of videos below.
Release Date and Price Announcement
PlayStation VR Features
PlayStation VR Sizzle
The Playroom VR
PlayStation VR Worlds
PlayStation VR Worlds is a compilation of five virtual reality experiences developed by SCE London Studio, including:
The London Heist – Puts you straight into a gritty gangland thriller where you get to unleash your inner gangster. The London Heist is best controlled by dual PS Move controllers but you can also play with a DualShock 4 instead with intuitive controls that make it surprisingly easy to pick up and play. You will feel highly immersed as you undertake an audacious robbery and then try to make your escape.
Into the Deep – Puts you to work as a deep sea salvor. It's an emotional underwater roller coaster. Not only do you get to see fantastic marine life all around you but as you descend through the ocean layers to the inky depths you will experience the true terror of something going horribly wrong.
VR Luge – Lets you step into the jumpsuit of an illegal street racer. Thunder down a beautiful Californian hillside, only inches off the ground in a position that only VR can put you in. You will truly feel the exhilaration as you dodge cars coming at you with horns blaring or when you slide underneath a massive 18-wheel truck.
Danger Ball – A futuristic sport where you must win or die. Use your head to strike and spin the ball in this intense, fast paced, game. Each rival has unique abilities to use against you as you make your way through the tournament to become champion.
Scavenger's Odyssey – In this cab based sci-fi adventure you play an alien treasure hunter. With your agile craft you can leap huge distances, climb walls, hurl debris with your Scavenger beam, and pummel alien critters with your twin pulse cannons. With your unique vehicle you will be able to make your way through a dangerous, infested environment of giant ravaged ships, smashing asteroids to reach an ancient and legendary artifact.
Read more at the PlayStation Blog.
Tumble VR
Tumble VR is developed by Until Dawn studio Supermmasive Games and is an "accessible, fun, engaging, and immersive puzzle" game that places you in a virtual arena specifically designed to test your physical dexterity and mental skills by working your way through a gauntlet of tests from building a tower to creating bridges and more.
The game takes the original PlayStation 3 title, Tumble, to new heights with "a load of new levels to make the best use of the virtual reality environment," as well as new modes and visuals. Cooperative and competitive modes use the PlayStation VR Social Screen feature to allow a second player not using a PlayStation VR headset to play together with the virtual reality player.
Read more at the PlayStation Blog.
Screenshots and Hardware Images
The following new PlayStation VR game screenshots were released:
View a new set of PlayStation VR hardware shots at the gallery.