Digimon World: Next Order adds Rina Shinomiya scenario, Hard Mode via launch day update
PS Vita game now available in Japan.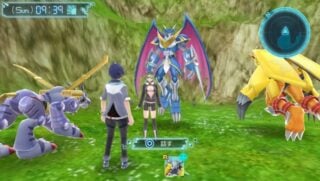 Digimon World: Next Order launched for PS Vita in Japan today. And in case the base game wasn't enough, a version 1.01 launch day update adds a few more bonuses, including a scenario involving Digimon game recurring character Rina Shinomya.
Get the details below.
(1) "The Super First-Class Great Beautiful Girl Tamer Visits!" Scenario Added!

Rina Shinomiya (voiced by Haruka Tomatsu), from Digimon World Re: Digitize Decode and who also appeared in Digimon Story: Cyber Sleuth, makes her appearance in Digimon World: Next Order via an additional scenario. She seems to have a favor to ask of you, who sudddenly becomes her apprentice…

Take on Rina's challenge! Clear the scenario to be able to digivolve to UlforceVeedramon and obtain the "Blue Cavalry Core" item.

(2) "Hard Mode" Option Added

You can now choose a "Hard Mode" that makes enemies even stronger than normal. To switch to hard mode, speak to Punimon in Jijimon's house. To turn it off, talk to Punimon again.

(3) Game Balance and Stability Adjustments
View a new set of screenshots at the gallery.