Call of Duty 2016 will be at E3, but Activision won't have a booth
PlayStation to showcase next Call of Duty.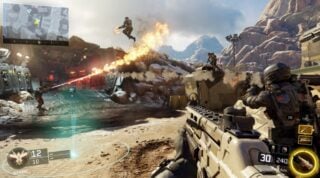 The next Call of Duty game from Infinity Ward will exhibit the Electronic Entertainment Expo in June, but publisher Activision won't have a booth at the event, the company announced.
"In June, we're going to be at E3 showcasing gameplay from Infinity Ward's ambitious new game," Activision said. "We're looking forward to sharing exciting new details about the next great Call of Duty game in partnership with our friends at PlayStation. We're proud to be participating in this premier video game event, but won't have an Activision booth on the show floor."
Activision isn't the first major publisher pulling away from the annual trade event. Electronic Arts will also not have a booth this year in favor of its own new EA Play event.
E3 2016 runs from June 14 to 16.