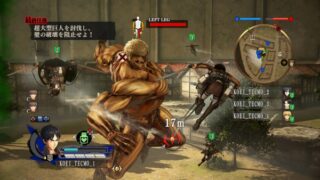 Koei Tecmo has detailed the previously announced March 24 update to its Attack on Titan game, which adds four-player online co-op, titan model decorations for your camp, a "Hard" difficulty mode, and more.
Get the information below.
"Outside the Wall Investigation Mode" online co-op play added – Up to four players on the same hardware can play together online.
Titan models added – You can now decorate your camp, where you prepare before heading out to the battlefield, with models of the titans you have defeated. In "Online Camp," the models can act as a way of showcasing your battle history.
Soldier skill max increased and original skills added – One new original skill has been added to each of the game's 10 playable characters.
"Hard" difficulty mode added – "Hard" is now a difficulty option next to "Easy" and "Normal."
"Shin Shingeki Mode" request rewards added – Rewards have been added for clearing requests in the super-difficult "Shin Shingeki Mode."
Comrade details added – During battle, you can see the details on screen for your maximum of four allies.
Equipment reinforcement max increased – The maximum that equipment can be reinforced has been increased.
Material rarity indication added – Rarity is now displayed for the materials required to develop and modify equipment.
Battle balance adjusted – Adjustments have been made to the balance of battle.
Ability to develop equipment while procuring materials added – You can now develop equipment while out procuring materials.
Attack on Titan is now available for PlayStation 4, PlayStation 3, and PS Vita in Japan, and will launch in North America and Europe this year.
View screenshots of the update at the gallery.