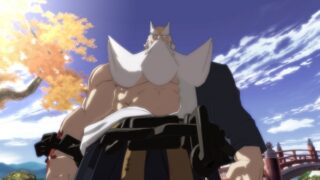 Arc System Works has released new Guilty Gear Xrd: Revelator information and screenshots, introducing new character Kum Haehyun, who is included with the game as a first-print bonus downloadable fighter.
Get the information below.
New Story Chapter

In Guilty Gear Xrd: Revelator, there is the arcade version's story "episode" that continued from the previous game, as well as a brand new episode. Additionally, the game lets players see a synopsis of the story until now, so even first time Guilty Gear players can jump into the game and be able to enjoy the story.

The characters Johnny, Jack-O, and Jam appeared in the arcade version, as well as hints at new characters?

Online Battles

In addition to the cross-platform play and match-making lobbies from the previous game, additional "amazing features" have been added. What can you expect? More details in a future update.

Tutorial Mode

Tutorial Mode has been redone from the previous game. It's more enjoyable, easier to understand, and lectures players on the fundamental knowledge of a fighting game.

Kum Haehyun

CV: Hideaki Tezuka
Height: 246cm
Blood-Type: A
Weight: 199kg
Birthday: December 5
Hobbies: Managing his beard, making accessories
Likes: Morals, the chains fitted to his arms
Dislikes: People who don't use all their power

A descendant of those who once were on the verge of destruction due to Justice's attack. The ability to tune into the spirit circulating in all living things is yielded only between blood relatives, and is one of the rarest existences in the world. Haehyun is the current family head of the Kum family of those descendants, who believes that one must always use all their power, and has the deep trust of those around her.

For generations, the Kum family has only permitted a male successor to take over as head of the family, so she spends her everyday controlling and riding inside a human-type cyborg named "Jonryoku Kum." But the fact that a girl is inside Jonryouku Kum appears to be generally unknown.

Haehyun is an uncommon character in the world of Guilty Gear, as she requires less labor. Be that as it may, it's not that her single-swing style is slow, but her battle style emphasizes the power of single blows. While her special moves are aligned with her standard performance moves, her performance changes with additional input, so there is a wide range possible tactics. For example, her special move where she dropkicks an enemy to the sky can be turned into a powerful rush attack technique with additional input. Through additional input with her missile-based special move, the orbit of the missiles can be controlled. She was developed with the concept of "easy to handle, difficult to master."

Limited Edition News (Japan)

A limited edition of Guilty Gear Xrd: Revelator will include:

"Guilty Gear Xrd Visual Book" featuring Guilty Gear Xrd series artwork
"Guilty Gear Sound Live 2014 Archives" featuring 14 songs from the 2014 concert event
Product code for first-print bonus downloadable character "Kum Haehyun"
Guilty Gear Xrd: Revelator will launch for PlayStation 4 and PlayStation 3 on May 26 in Japan and June 7 in North America.
View the screenshots at the gallery.