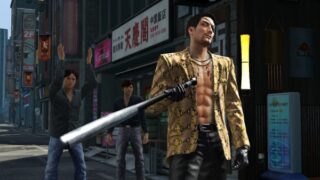 Sega has released new information and screenshots introducing Yakuza: Kiwami's "Majima Anywhere" system, where Majima Goro can appear anywhere and everywhere to fight Kazuma Kiryu.
Get the information below.
■ Majima Anywhere

In Yakuza: Kiwami, in order to gain back the strength he lost wasting away in prison for ten years, Kazuma Kiryu will use his keyman Majima Goro. A new system, dubbed "Majima Anywhere," allows Goro Majima to swoop in on Kazuma Kiryu anywhere in Kamurocho. The reason for this is "to awaken Kiryu's intuition, and to enjoy more fights." Through Majima's self-centered insanity, the city of Kamurocho is transformed into a city of moment's notice madness.

■ Battle Styles

Like Kiryu, the elusive Majima has a variety of battle styles. From the balanced "Fight Master," the grand hitting "Slugger," and the continuous attacking "Dancer," and even the "the Mad Dog of the Shimano," you'll face Majima in a variety of fashions.

■ The Dragon of the Dojima

Through the "Majima Anywhere" system, you'll battle against many Majimas, and Kiryu's strongest battle style, "the Dragon of the Dojima," will be unleashed. Through this battle style, in addition to Kiryu's "Thug," "Damage Shop," and "Rush" fighting styles, you can rise to further heights. If you meet certain conditions, you can also learn one of Majima's special moves as a Heat Action.
If you missed it, you can see the "Majima Anywhere" system in action in a new trailer released last week.
Yakuza: Kiwami is due out for PlayStation 4 and PlayStation 3 in Japan on January 21, 2016, and will include a Yakuza 6 demo download code.
View the new screenshots at the gallery.