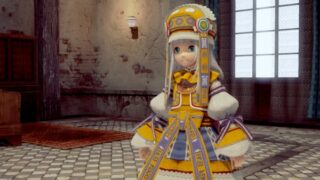 Square Enix has released new details and screenshots of Star Ocean: Integrity and Faithlessness detailing support character Relia, who fights alongside you in battle but is not playable, and the series' trademark Private Actions.
Get the details below.
■ Support Character

Relia

CV: Yui Ogura
Gender: Female
Age: 12

A mysterious girl who comes across Fidel and Miki. She doesn't have any memories or emotion, but joins Fidel and friends on their journey in order to regain them. She has a child-like way of speaking and often comforts those around her, and has taken to Miki in particular. It seems that she's being targeted by someone, but…

Relia is not a playable character. However, she is a party member that fights and develops with the team as a dedicated support character. And she has some secret abilities, too!

■ Private Actions

Private Actions is a system that lets you enjoy conversation events with each character in town and along your journey. These events are triggered based on your story progress and character Affection Rating. The contents of Private Actions vary depending on a character's Affection Rating. From story-related subjects to daily conversation and character secrets, there will be various Private Actions to experience. A Private Action may even unlock new roles and influence abilities.

Affection Rating Changes and Effects

Party members, of course, have a level of affection towards the protagonist (Fidel), but there is also affection between party members that changes as you progress through the story and trigger Private Actions. Your Affection Rating with other characters affects conversation content and development, events, battles, and ultimately the ending. For example, during battle, characters with high Affection Rating towards another character will better support them. When that character is KO'd, they'll become enraged, increasing their attack power and changing their actions. Finally, regarding the ending and the character with the highest Affection Rating…

Private Actions in Town

Private Actions will be displayed as a whistle icon on the mini-map, and when you enter the ring with the whistle icon in the game world, a Private Action will begin.

Sometimes there will be message icons displayed on the mini-map. A specific character will be standing there, who you can approach and initiate a Private Action.

During Private Actions, your answers will affect your Affection Rating, as well as the contents of Private Actions that happen later on.

Through Private Actions, not only is it possible to see who each character as an individual, but you'll see unexpected sides of them, as well.

Based on your story progress, character Affection Rating, and whether a certain character is there, unlike Private Actions in town, there will be Private Actions that occur automatically along your journey.

■ Miki's Reserve Rush and Guard Counter

Reserve Rush (Arcadia)

A garden of flowers blooms before Miki, and all allies recover HP and are cleared of status ailments.

Guard Counter (Overwhelm)

Wielding her staff, Miki blows away the enemy with shock waves. The blow creates distance, allowing Miki to follow up with a signeturgy technique.
Star Ocean: Integrity and Faithlessness is due out for PlayStation 4 and PlayStation 3 in Japan on February 25, and for PlayStation 4 in North America and Europe in 2016. In Japan, the game will also be available in an "Ultimate Box" edition.
View the new screenshots at the gallery.