Nexon and Valhalla Game Studios to announce new title on November 12
Official unveil of Devil's Third for PC, or something completely new?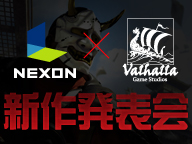 Nexon, a company that specializes in free-to-play online PC games, and Valhalla Game Studios, developer of Devil's Third, will announce a new game via a Niconico live stream next Thursday, November 12.
The live stream, which will begin at 20:00 Japan time, will feature comedy duo America Zarigani's Yoshiyuki Hirai, Saishu Heiki Oretachi's Kosuke, Myako, Valhalla Game Studios' Tomonobu Itagaki, and Nexon's Tomohide Kato.
It is unknown if the announcement will be a completely new title or an official unveil of the PC version of Devil's Third.