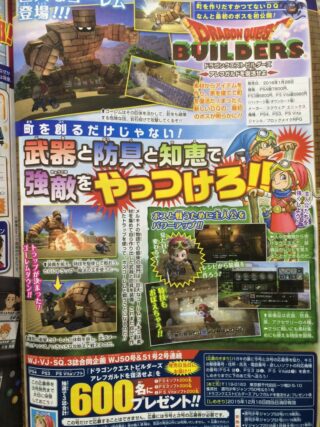 Jump this week has new details on Dragon Quest Builders.
Here's the summary:
You can learn recipes for equipment through quests received by people and monsters.
If you change your equipment, it will be reflected in your appearance.
Equipment consists of weapons, armor, shields, and accessories.
You won't just learn skills useful for fighting. You'll learn skills useful for collecting materials, as well.
The first boss you'll fight is a Golem. Using the "Magic Ball" trap, you can knock the Golem down, opening up your chance to deliver big damage.
Dragon Quest Builders will launch for PlayStation 4, PlayStation 3, and PS Vita in Japan on January 28.
Thanks, @kazu4281.