Atelier Shallie Plus first details and screenshots
Enhanced PS Vita port due out on March 3 in Japan.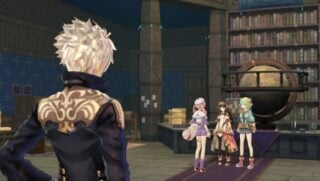 Gust has released the first official details and screenshots of the newly announced Atelier Shallie Plus: Alchemists of the Dusk Sea, introducing the PS Vita update's new elements.
Here's what's new:
The Truth of "Dusk" Becomes Clear – In Atelier Shallie Plus, the truth of the "Dusk" discussed throughout the series will become clear.
Returning Characters – Ayesha from Atelier Ayesha: The Alchemist of Dusk and Logy from Atelier Escha & Logy: Alchemists of the Dusk Sky will appear as playable characters.
New Episodes – There will be new scenarios involving the returning characters. For example, for Ayesha, there's an episode where she reunites with Wilbell for the first time in a long time. And for Logy, there's a reunion episode with Escha. New episodes from the PlayStation 3 events of Atelier Shallie have also been added.
Downloadable Content – DLC from the PlayStation 3 version will be included in the PS Vita release, including Escha and Solle as playable characters, the Enchanted Swimsuit costume set, and the extra "Abyss" dungeon and boss. Additionally, Atelier Shallie Plus will have an original boss and costumes, too.
First-Print Bonus – First-print copies of Atelier Shallie Plus will included a product code to download an original costume for Ayesha.
Atelier Shallie Plus is due out for PS Vita in Japan on March 3 for 5,800 yen. An 8,800 yen limited edition will include a mini crystal paperweight, Shallistera and Shallotte exclusive costume download code, special mini towel, and 3D lenticular card.
View the screenshots at the gallery.