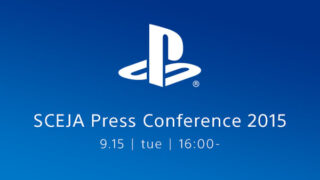 Sony Computer Entertainment Japan Asia will host its annual pre-Tokyo Game Show SCEJA Press Conference this year on September 15 from 16:00 to 17:30 Japan time (find your local time), the company announced.
Like those held in years past, the press conference will host the latest Japanese PlayStation 4, PlayStation 3, and PS Vita announcements.
The event will be live streamed. A link will be posted at the Japanese PlayStation Blog on the date of the press conference. (Update: You can watch it live on YouTube in English and in Japanese, and Niconico.)
Notable announcements from last year include Dragon Quest Heroes, Disgaea 5, Earth Defense Force 4.1, God Eater 2: Rage Burst, Luminous Arc Infinity, the PlayStation 4 version of Persona 5, Resident Evil Revelations 2, Senran Kagura: Estival Versus, the next Ys game, and more.
Games that could potentially surface this year include the leaked Gravity Rush Remaster, the 2013-announced Gravity Rush project, the new Atlus and VanillaWare project, Level-5's PlayStation 4 game, Granzella's Disaster Report, Bandai Namco's leaked titles, Kadokawa's PlayStation dungeon and sim RPGs, Square Enix's Project Setsuna, the rumored Final Fantasy XII remaster, CyberConnect2's 20th anniversary project, a new Sega game—the possibilities are endless. Of course, already announced games are also likely to appear.
The Tokyo Game Show runs from September 17 to 20.