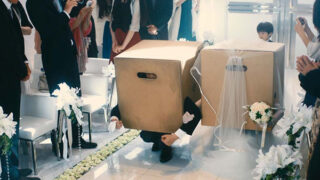 Sony Computer Entertainment is broadcasting a new TV spot for Metal Gear Solid V: The Phantom Pain in Japan. And it involves a cardboard box-based wedding.
The commercial depicts a bride and her father walking down the aisle in cardboard boxes, Solid Snake's famous hiding spot in the Metal Gear solid series. During her speech at the end of the ceremony, the bride says that in her 28 years, she has learned many things, and thanks both her father and the Metal Gear Solid series. At the end of that speech, with a serious look in her eyes, the bride says, "There is still something I've yet to learn. Metal Gear's greatest mystery…" Hearing his daughter's words, the father bursts out of his cardboard box—his daughter follows—and he walks towards her and hands her a DualShock 4. Tears commence.
Metal Gear Solid V: The Phantom Pain is due out for PlayStation 4, Xbox One, PlayStation 3, Xbox 360, and PC worldwide on September 1.
Watch the TV spot below.
15-Second Version (TV)
https://www.youtube.com/watch?v=C-C-FbeP2Xk
Two-Minute Version (Web)
https://www.youtube.com/watch?v=YN470wKT9PM