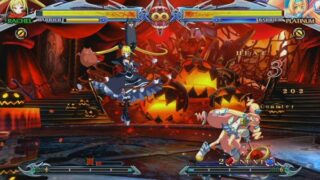 BlazBlue: Chrono Phantasma Extend is coming to Europe for PlayStation 4, Xbox One, and PS Vita in 2015, publisher PQube announced. It will be released both physically and digitally.
The Arc System Works-developed fighting game launched for PlayStation 4, Xbox One, and PlayStation 3 in North America on June 30, and will launch for PS Vita on July 28.
Here's a list of the game's features, via PQube:
Features

28 playable characters, including newcomer Celica A Mercury and fan-favorite Lambda.
The full story so far! BlazBlue: Chrono Phantasma Extend features both the original Calamity Trigger and Continuum Shift stories.
Remix Heart. All-new scenarios dedicated to the girls of BlazBlue – bringing light hearted comedy and fan service to BlazBlue's already exhaustive story features.
Incredible art and animation! No other fighting game comes close to the sheer spectacle of BlazBlue in motion – as fights play out through thousands of frames of animation and effects.
My Room feature brings customisable lobbies for up to 64 players. Play, match-make and spectate from the comfort of your personalised online lobby!
Outstanding tutorials. Arc System Works leads the way in creating simple tools that can take a total novice and train them in the dark art of fighting game combos!