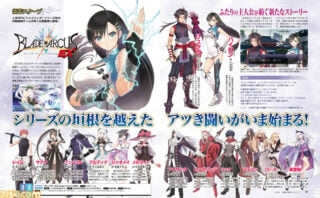 Sega is bringing its Shining series arcade fighting game Blade Arcus from Shining to PlayStation 4 and PlayStation 3 as Blade Arcus from Shining EX, the latest issue of Famitsu reveals.
The arcade game features the following 14 playable characters:
Ryuga (original character)
Pairon Wong (original character)
Rage (Shining Blade)
Sakuya (Shining Blade)
Altina (Shining Blade)
Roselinde (Shining Blade)
Fenrir (Shining Blade)
Xiao-Mei (Shining Hearts)
Melty (Shining Hearts)
Isaac (Shining Hearts)
Urayukihime Hayane (Shining Hearts)
Rouna Murasame (Shining Hearts)
Dylan Rowen (Shining Hearts)
Rick Elwood (Shining Hearts)
The console versions will feature new characters, as well.
Famitsu has a six-page scoop on the announcement. Further details have not yet leaked.
Thanks, Famitsu.
Update 6:42 a.m.: More details have come in via Famitsu.
Blade Arcus from Shining EX will launch for PlayStation 4 and PlayStation 3 in Japan on November 26. The standard edition will 6,990 yen, while a limited edition will cost 9,990 yen.
First-print copies of either version will include the playable character Sonia from Shining Resonance. Another popular character is also teased for the console version.
The "Blade Arcus from Shining EX Tony's Premium Fan Box" limited edition includes:
A Tony Taka-illustrated special box
"Shining Heroine Works" art book
Shining Ark character song CD
Shining Blade soundtrack CD
"Shining Beach Heroines" swimsuit calendar
Thanks, Hachima Kikou.