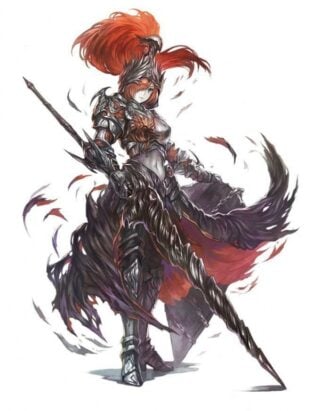 This week's Yoru no Nai Kuni update details two new characters, including a member of the holy knights, which main character Arnas belongs to, as well as a new (and cute) transformation for Arnas, an Arena side element, and more.
Get the details below.
■ New Characters

Corrine (voiced by Ayane Sakura)

A skilled and long-time member of the holy knights. As Arnas' senior, she has provided her various advice since they'd first met. She appears honest and nobile, but can occasionally show a sadder face. She visits the art museum frequently, but the her reason for doing so is unknown.

Professor Arukado (voiced by Yoshitsugu Matsuoka)

A young man who came to the "Ende" hotel. He calls himself a youma researcher, but his behavior is suspicious and Arnas doesn't trust him. Despite his eloquent appearance, he chases down Arnas as a subject of his research.

■ Blood Power Weapons

Arnas can transform her blood into weapons to do battle. There are various forms of weapons her blood can transform into, and they'll only increase depending on her level. If you change her weapon, not only will Arnas' attacks change, but also the abilities granted to her subordinate demons.

Dagger

The Dagger allows for very quick attacks. It allows you to dish out attacks without giving the enemy a chance to counter. When using the Dagger, subordinate demons are granted the "Bleed Hit" ability, which inflicts the "Bleeding" status ailment on enemies, causing them to gradually lose HP.

Long Sword

The Long Sword allows for wide range attacks. It's also possible to suck the blood of defeated enemies and increase your attack power depending on the amount you gather. When using the Long Sword, subordinate demons are granted the "Offensive Mode" ability, which enables them to continuously unleash attacks at the enemy. Their attack power is also further increased depending on the amount of blood sucked from the enemy.

■ Transformations

As she battles, Arnas' transformation gauge will increase. Her transformation depends on her party of subordinate demons. As seen in the "Deck Make" screen, which allows players to organize their party, if a certain number of the same transformation icon is shown at the bottom of each subordinate demon, Arnas will be able to transform into the form indicated by the icon.

Demon Form

A form that lets Arnas control blazing flames (and the first form we detailed). Her attacks allow her to scorch youma at both long and close ranges.

Rabbit Form

A cute form that specializes in close combat and flinging herself at the enemy. It's a speedy form that can disrupt large groups of enemies.

■ Subordinate Demons

"Toy Sentinel" (Servant Type)

A subordinate demon that fights along Arnas like a geniune soldier. It puts Arnas before all else and rushes at the enemy with a single order.

"Wolf" (Attacker Type)

An intelligent and quick-moving subordinate demon that specializes in techniques like charging and air-based tailspins. It can also paralyze enemies.

"Blader Soul" (Attacker Type)

A subordinate demon that steadily moves towards the enemy. He dishes out a lot of attacks, and doesn't allow for counters. It's small, but has a rustic personality.

■ Side Element: The Arena

One of Yoru no Nai Kuni's side elements is an Arena. The Arena can be found in the 99th basement floor of the Ende hotel. A number of "challenges" are being prepared for the arena, where players can enjoy special battles different from normal fights, and acquire rewards by clearing said battles. Whether it's time limit, technique restrictions, chain competitions, or running through enemies in translucent labyrinths, Arena challenges can be difficult, but players can expect rewards suited to each challenge. There are also items that can only be obtained in the arena.
Yoru no Nai Kuni is due out for PlayStation 4, PlayStation 3, and PS Vita in Japan on August 27.
View a new set of screenshots at the gallery.