Persona series sales top six million
Persona 4 Arena Ultimax sells 280,000 units.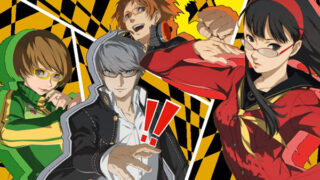 The Persona series has sold a total of six million copies worldwide, Sega's financial report for the fiscal year ended March 31, 2015 reveals.
The report reads:
"In the fiscal year ending March 31, 2016, the Group will launch new titles mainly for the Group's mainstay IP including 'Persona5' which will be the latest title from the Persona series boasting over 6 million total copies sold along with implementing transitions of IP for packaged games such as 'Total War' series into digital games mainly in overseas."
Sega's appendix for the fiscal year reveals sales for the latest Persona title, as well as sales across the publisher's other recent releases:
Football Manager (PC) – 810,000 (US, Europe)
Persona 4 Arena Ultimax (PS3, 360) – 280,000 (US, Europe, Japan)
Sonic Boom: Rise of Lyric (Wii U) and Sonic Boom: Shattered Crystal (3DS) – 620,000 (US, Europe, Japan)
Yakuza 0 (PS4, PS3) – 380,000 (Japan)
To date, the following Persona titles have been released:
Persona 2: Innocent Sin (PSone, 1999), Persona 2: Eternal Punishment (PSone, 2000), and PSP remakes (2011 and 2012)
Persona 3 (PS2, 2006), Persona 3: FES (PS2, 2007), and Persona 3 Portable (2009)
Persona 4 (PS2, 2008) and Persona 4 Golden (PS Vita, 2012)
Persona 4 Arena (PS3, 360, 2012) and Persona 4 Arena Ultimax (PS3, 360, 2014)
Persona Q: Shadow of the Labyrinth (3DS, 2014)
The latest games, Persona 4: Dancing All Night for PS Vita and Persona 5 for PlayStation 4 and PS3, are due out later this year.