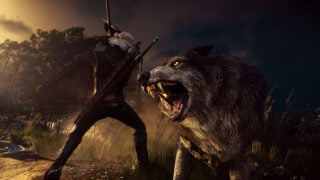 The PlayStation 4 version of The Witcher 3: Wild Hunt launched with first week sales of 67,000 in Japan, this week's Media Create Sales figures reveal. It was the top seller for the week.
Also new on this week's charts are the PS Vita version of Lovely x Cation 1&2, which debuted at 7,000 sales, and QuinRose's Abunai Koi no Sousashitsu for PS Vita, which opened at 4,000.
Hardware sales remain similar to last week, with certain platforms receiving 1,000 unit boosts or decreases.
Get the full sales figures below.
Software Sales (followed by lifetime sales)
[PS4] The Witcher 3: Wild Hunt (Spike Chunsoft, 05/21/15) – 67,385 (New)
[PSV] Minecraft: PlayStation Vita Edition (SCE, 03/19/15) – 11,898 (167,176)
[3DS] Puzzle & Dragons: Super Mario Bros. Edition (GungHo Online Entertainment, 04/30/15) – 10,876 (243,559)
[PSV] Lovely x Cation 1&2 (5pb., 05/21/15) – 6,835 (New)
[3DS] Girls Mode 3: Kirakira Code (Nintendo, 04/16/15) – 6,313 (134,526)
[Wii U] Mario Kart 8 (Nintendo, 05/29/14) – 5,758 (995,065)
[PS4] Final Fantasy X | X-2 HD Remaster (Square Enix, 05/14/15) – 5,591 (21,504)
[PSV] Abunai Koi no Sousashitsu: Eternal Happiness (QuinRose, 05/21/15) – 4,266 (New)
[3DS] Pokemon Omega Ruby / Alpha Sapphire (Pokemon, 11/21/14) – 4,081 (2,626,570)
[3DS] Bravely Second: End Layer (Square Enix, 04/23/15) – 3,393 (138,298)
[3DS] Super Smash Bros. for Nintendo 3DS (Nintendo, 09/13/14) – 3,221 (2,233,937)
[Wii U] Mario Party 10 (Nintendo, 03/12/15) – 2,720 (143,683)
[Wii U] Xenoblade Chronicles X (Nintendo, 04/30/15) – 2,625 (104,137)
[PS4] Dying Light (Warner Bros., 04/16/15) – 2,518 (46,969)
[3DS] Animal Crossing: New Leaf (Nintendo, 11/08/12) – 2,317 (3,975,250)
[3DS] Yokai Watch 2: Shinuchi (Level-5, 12/14/14) – 2,280 (2,608,486)
[Wii U] Super Smash Bros. for Wii U (Nintendo, 12/06/14) – 1,989 (638,100)
[Wii U] Dragon Quest X: Legend of the Ancient Dragon Online (Square Enix, 04/30/15) – 1,963 (107,305)
[PS4] Earth Defense Force 4.1: The Shadow of New Despair (D3 Publisher, 04/02/15) – 1,861 (42,589)
[3DS] Monster Hunter 4 Ultimate (Capcom, 10/11/14) – 1,842 (2,529,565)
Hardware Sales (followed by last week's sales)
PlayStation 4 – 12,096 (11,489)
PlayStation Vita – 11,352 (10,685)
New 3DS LL – 10,134 (11,340)
Wii U – 7,611 (6,428)
New 3DS – 3,609 (3,483)
PlayStation 3 – 2,627 (2,964)
3DS LL – 827 (790)
3DS – 687 (742)
PlayStation Vita TV – 423 (439)
Xbox One – 308 (148)
Thanks, 4Gamer.net. (Image via.)