Makai Shin Trillion has multiple endings
Resurrect the fallen with the power of a Love Gem.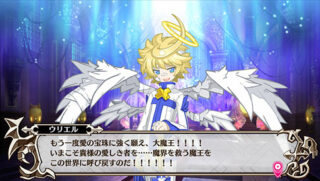 Compile Heart has updated the official Makai Shin Trillion website, providing new details on the game's "Love Gems" and multiple endings.
When all six of your Demon Lords die, you'll get a game over. However, if at least one of them had their intimacy level maxed out prior to their demise, a "Love Gem" event will be triggered. With the power of a Love Gem, you can resurrect one character among those with maxed intimacy, and thus continue raising them and battling antagonist Trillion.
A Love Gem is a treasure from heaven entrusted to Uriel, an archangel, by God. Uriel previously tried to hand one to Zeabolos, who proceeded to scoff at the idea of love among hellish demons and tossed it in his castle's storehouse. It's said to unleash its power when it senses boundless, unconditional love from its holder.
As you increase your intimacy levels, you'll trigger exclusive events. But that's not all. If you defeat the powerful Trillion in an intimate condition, you'll be able to see the "lovey-dovey ending."
Makai Shin Trillion is due out for PS Vita on July 23 in Japan.