Fire Emblem If eliminates weapon usage limit
Japanese cast and super-easy "Phoenix Mode" revealed.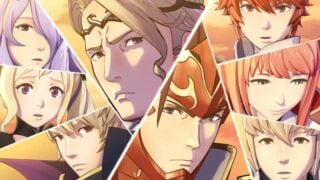 Famitsu this week has new details on Fire Emblem If for 3DS.
The protagonist is voiced by Nobunaga Shimazaki (male) and Satomi Sato (female), and is of the "Dark Princess" / "Dark Princess" class. Like Fire Emblem: Awakening before it, you'll be able to customize the protagonist's name, appearance, gender, and voice.
Hoshido Kingdom

Ryouma (voiced by Yuichi Nakamura)
Hinoka (voiced by Kaori Nazuka)
Takumi (voiced by Yuki Kaji)
Sakura (voiced by Hisako Kanemoto)

Nohr Kingdom

Marx (voiced by Katsuyuki Konishi)
Camilla (voiced by Miyuki Sawashiro)
Leon (voiced by Mamoru Miyano)
Elise (voiced by Ayaka Suwa)
In addition to a "Casual Mode" where downed ally units return after the map is cleared, there's also a "Phoenix Mode" where downed units are revived during the next turn. The mode and difficulty cannot be changed after you change it once.
Royal characters will be able to use the "Dragon Pulse" to make various changes on the battlefield. Whether its raising a bridge, causing an earthquake, or flattening mountains, there are various changes you can make to the map.
You'll be able to have up to nine save files in Fire Emblem If, and that'll increase by three for each new scenario released.
The game also eliminates the limit placed on the number of times a weapon can be used.
Fire Emblem If is due out for 3DS in Japan on June 26 and in North America and Europe in 2016.
Thanks, Hachima Kikou.