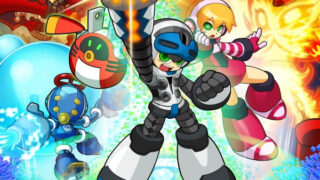 Mighty No. 9 will launch digitally for PlayStation 4, Xbox One, Wii U, PlayStation 3, Xbox 360, PC, Linux, and Mac on September 15 in the Americas and September 18 worldwide for $19.99, Comcept announced.
On PlayStation 4, Xbox One, and Wii U, the game will also be available as a $29.99 physical release including downloadable content and extras, via publisher Deep Silver.
PS Vita and 3DS versions of the game will be released digitally at a later date.
Comcept's alliance with Deep Silver will not only allow for a physical release, but also provides the developer with additional resources to bring out more for the game, including:
•'Ray' DLC: An all-new stage including an epic battle with Beck's rival Ray that, upon completion, unlocks Ray as a playable character for the entire main game, adding unique skills and all-new gameplay mechanics. The stage will be available as additional downloadable content, adding huge replay value. This extra content will be included in all retail editions and will be provided free to all Kickstarter backers of the project, upon release of the game.
•Voice-over support: Japanese and French voice-overs have been recorded and will be added to all versions of the game alongside the already planned English VO.
•Localized versions: Deep Silver will provide localized versions with subtitles in English, Spanish, French, Italian, German, Russian, Polish and Brazilian Portuguese languages.
View a new set of screenshots and the official box art at the gallery.