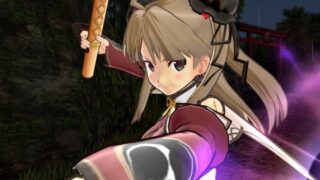 Sales for Senran Kagura: Estival Versus reached 100,000 within its first three days* on sale in Japan, and with an 80 to 90 percent sell-through rate, producer Kenichiro Takaki revealed on Twitter. The download version sold 10,000 units.
The sales are at about the same level Senran Kagura: Shinovi Versus was when it launched. The predecessor opened at 94,000 sales on PS Vita alone. Estival Versus, however, is available on both PS Vita and PlayStation 4.
In related news, it seems fans have discovered a bug that removes underwear from the girls while in the Dressing Room. There's a video of that on Niconico. Obviously, it's not very safe for work.
(*Senran Kagura: Estival Versus launched on March 26. Sales are as of March 29.)
Thanks, Games Talk.