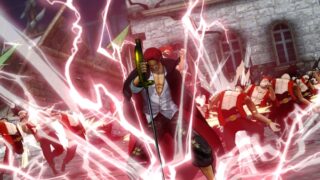 One Piece: Pirate Warriors 3 is out today for PlayStation 4, PlayStation 3, and PS Vita in Japan, and the release day character clip shows the Red Hair Pirates leader Shanks in action.
A new set of screenshots showcasing playable characters Shank and Caesar Clown, along with rival characters Hody Jones, Vergo, Jesus Burgess, and Monet were also released.
If you missed them, catch the previous weeks' character videos here:
One Piece: Pirate Warriors 3 is due out this summer (with an added PC version) in North America and Europe.
Watch the new video below. View the screenshots at the gallery.