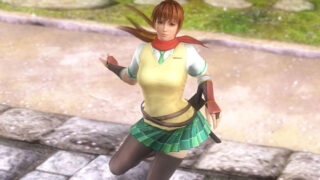 The Senran Kagura costumes pack for Dead or Alive 5: Last Round are out today in Japan. On PlayStation 4, PlayStation 3, and Xbox 360, it costs 3,428 yen for the 16 character costume set, or 307 yen for each costume individually. On Xbox One, the set costs 3,672 yen and individual costumes cost 324 yen.
Much like the Senran Kagura games, the costumes can be ripped and destroyed. While you'll see a bit of that in the trailer, further off-screen shots can be seen over at Games Talk.
Watch the trailer below.
Thanks, Games Talk.