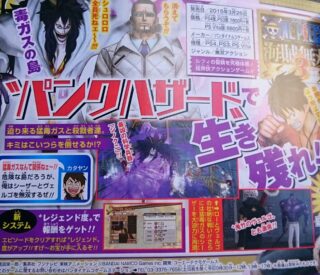 The latest issue of Jump magazine confirms Caesar Clown and Vergo will appear in One Piece: Pirate Warriors 3. It is unknown if they will be playable.
The magazine has first details on a new "Legend Strength" system. For every episode you clear, your "Legend Strength" will increase and you'll be able to obtain new treasures.
One Piece: Pirate Warriors 3 is due out for PlayStation 4, PlayStation 3, and PS Vita on March 26 in Japan and this summer (with an added PC version) in North America and Europe. If you missed it, catch the latest gameplay here.
Thanks, APForums.