Aquaplus might be teasing Utawarerumono 2
Hakuoro's mask looks to be within the "Dig for Next AQ" rock.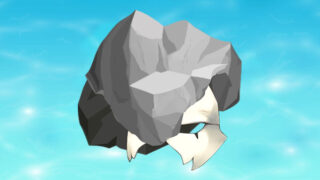 Aquaplus' next game reveal might be Utawarerumono 2. Last week, the company launched a "secret promotion" website called "Dig for Next AQ." It has a minable rock, which has been slowly breaking with every click. And with its latest break, it looks like Utawarerumono protagonist Hakuoro's mask is within it.
Utawarerumono is an adult tactical role-playing visual novel developed by Leaf and released for PC in 2002. A PS2 version, which removed the adult scenes, was developed by Sting and released by Aquaplus in 2006. In 2009, the game was ported to PSP.
In 2011, Aquaplus officially announced Utawarerumono 2 for PlayStation 3, alongside Tears to Tiara II: Heir of the Overlord and another game called Jasmine. While Tears to Tiara II eventually released in 2013 (and last year in North America and Europe), Utawarerumono 2 and Jasmine did not.
However, in 2013, Aquaplus boss Naoya Shimokawa said the following on Twitter:
"We're continuing to work hard on Utawarerumono 2! Director Tatsuki Amaduyu and writer Suga Munemitsu, too! I can't talk about whether or not it will be released in 2014 (laughs), but I can say that Utawarerumono 2 is in full-blown development within the company!"
So into 2014, at least, we know Utawarerumono 2 was still in development. And with Hakuoro's mask appearing on the teaser website, it looks like it's ready for its full-blown re-reveal.
Now, the question is whether the "Dig for Next AQ" website is related to the "Next Aquaplus Game" teaser website, which launched earlier and is teasing something new for PlayStation 3 and PS Vita. Then there's that strange message posted last week.
Side-note: If anyone is curious, other than it being an adventure game, its scenario being by novelist Yuichi Suzumoto, and its artwork by Hisashi Kawata, further details for Jasmine were never released.
Thanks, Games Talk.
Update 11:10 p.m.: Aquaplus has announced a rebroadcast of the Utawarerumono anime is set to run on Tokyo MX and BS11 starting April 4 and 5, respectively, which further supports speculation for Utawarerumono 2.