Ray Gigant teaser trailer, screenshots, and details
Bandai Namco and Experience's new PS Vita dungeon RPG.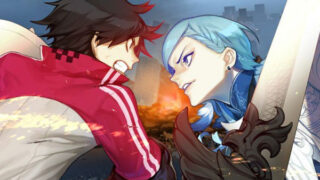 Bandai Namco has gone up with the teaser trailer, first screenshots, and official details on its newly announced, Experience-developed PS Vita dungeon RPG Ray Gigant, due out this summer in Japan.
Find the details below.
Prologue

Near future, June 20XX. In every city throughout the world, giant monsters known as Gigants appear.

Military resistance from each nation ends in wasted effort, but in Tokyo, one boy is able to defeat a monster. His name is Ichiya Amakaze. To do this, the boy used an unknown power called "Yorigami."

But after defeating the Gigant, the boy's power runs wild—and in the end, the city is destroyed and the boy loses consciousness. But one young man saves him and transfers him to a safety zone.

Three Heroes

The story of Ray Gigant is told in chapters from the perspective of three heroes.

Ichiya Amakaze (voiced by Atsushi Abe) – A 15 year-old Japanese boy who stands at 175cm in height. He's a wholesome and fine young man who grew up in an ordinary suburban family. But when Tokyo is destroyed, he has his awakening.
Kyle Griffin (voiced by Wataru Hatano) – A 17 year-old British boy who stands at 180cm in height. He was born to a distinguished family and is very intelligent. But he was not blessed with the love of his mother, and grew up to have a twisted personality.
Nil Phineas (voiced by Yoshino Nanjo) – A 16 year-old girl of unknown nationality and who stands at 165cm in height. She is naive and simplistic, but is also trained in Gigant warfare. She works each day almost as a vigilante to protect the various islands of the Caribbean Sea from the Gigants.

Comrade Characters

Each chapter will have two comrades accompanying that chapter's protagonist. These are the comrades of Ichiya Amakaze.

Mana Isano (voiced by Rumi Okubo) – A nice and caring girl and the childhood friend of Ichiya since elementary school. They currently attend a Tokyo junior high school together.
Miwa Kazuomi (voiced by Takuya Eguchi) – A serious young man that Ichiya can rely on. Early on in the story, he even opposes against Ichiya, but after understanding his true strength and suffering, they become close friends.

Gigants

The enemies that Ichiya and company fight are known as Gigants. Each Gigant is designed after an ancient god beast. From huge bosses to weaklings, there are Gigants of all types. Their true identities are that of alien invaders from space. On Earth, they're trying to eradicate human civilization and life.

Theme Songs Per Chapter

As this game's story unfolds in chapters, a theme song will be provided for each chapter. Singing the theme song of Ichiya's chapter is T.M. Revolution. Singing the theme song of Kyle's chapter is Faylan. And singing the theme song of Nil's chapter is Yoshino Nanjo.
Watch the teaser trailer below. View the first screenshots at the gallery.
Visit the game's official website here.
Thanks, Games Talk.