IA/VT Colorful first-print bonuses announced, 'Inner Arts' gameplay video
Including costumes designed by Akasaka Aka.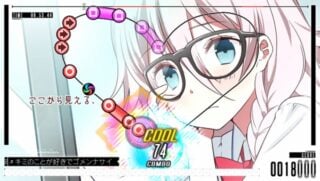 Marvelous has released new footage, screenshots, and details for its upcoming PS Vita rhythm game IA/VT Colorful.
Due out on June 25 in Japan, first-print copies of the game will include a special reversible package art, the five-song "IA/03 Vision" compilation album, and a product code for the in-game IA "Gothic Fashion" costume (available in three colors).
The IA/03 Vision album includes the following tracks:
Sunday Minami Park – Ishifuro
Promenade – Monaca:Factory
Doukoku Kyuuketsuki – Yasuhiro
Shinigami no Guitar – Potential 0
Uragiri Module – Utata P
Over at Famitsu, you can see new images showcasing 22 of IA's costumes. Players will be able to decorate the stage and IA's costumes (for stages where she appears in real-time), as well as the "Rhythm Markers" and "Rhythm Skins." You'll earn more costumes as you continue to play. Costumes pictured at Famitsu include:
Official
Casual (designed by Akasaka Aka)
Choir (designed by Akasaka Aka)
Party Dress (designed by Akasaka Aka)
See the Lights set (x3)
Pajama set (x3)
Jersey set (x3)
Diva set (x3)
Stage Idol set (x3)
Lolita set (x3)
Kimono set (x3)
Punk Rock set (x3)
Nekomimi Maid set (x3)
Liberal Arts Girl set (x3)
Winter Scarf set (x3)
Wedding Dress
Kawaii set (x3)
School Idol set (x3)
Cyber Elf set (x3)
Street Dancer set (x3)
Dance Lesson set (x3)
Summer Dress set (x3)
IA/VT Colorful is a "sound catching" rhythm game due out for PS Vita on June 25 in Japan. Players will use the four face buttons and d-pad in combination with the analog stick to line up and "catch" incoming sound. The game features over 60 songs, including "real-time," "original music video," and "game original music video" stages.
Watch a new gameplay video of the song "Inner Arts" below. View a new set of screenshots at the gallery.