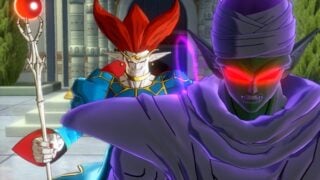 Bandai Namco has released a new set of Dragon Ball Xenoverse screenshots introducing a brand new antagonist.
Demigra the Demon God is a new character designed specifically for the game. The hazardous events plaguing the game world were not only due to Towa and Mira's bad doings. Demigra is, in fact, the brains behind the masquerade.
Dragon Ball Xenoverse is due out for PlayStation 4, Xbox One, PlayStation 3, Xbox 360, and PC on February 24 in North America and February 27 in Europe. View screenshots of Demigra, as well as new character artwork, at the gallery.